Boogie Cat's Dance Party Set
Celebrating twin birthdays, friendship with B.B. King
9/12/2017, 4:58 p.m.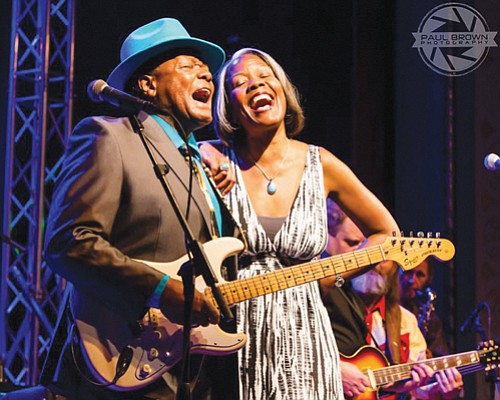 The Norman Sylvester Band featuring his amazing daughter Lenanne Miller and the smooth sounds of Renato Caranto will celebrate the Portland bluesman's shared birthday with the late King of the Blues B.B. King on Saturday, Sept. 16 at the Adrianna Hill Grand Ballroom in the Pythian Building, 918 S.W. Yamhill.
Sylvester grew up in Bonita, Louisiana, hearing BB King on the juke boxes as well as other Blues legends.. After moving to Portland, he learned to play guitar from his high school buddy Isaac Scott. Though Sylvester first played Gospel, Soul, Funk as well as the Blues, he realized over 32 years ago that he was destined to be a bluesman and started the Norman Sylvester band.
After playing the first Waterfront Blues (then Rose City) Festival in 1987, BB's manager called them to open for BB King at Arlene Schnitzer Concert Hall. That show really launched the band into a period of great success that continues to this day. They opened again for BB in 1991 and connected with him when possible after that.
When the Blues men were together, BB referred to Sylvester as his "Birthday Brother." They were born on the same day, 20 years apart.
The band continues to dedicate Boogie Cat's birthday party to the King of the Blues. Tickets are $10 in advance at tickettomato.com or $12 at the door.