Portland Race for the Cure Sunday
Supporting breast cancer awareness and prevention
9/14/2017, 11:37 a.m.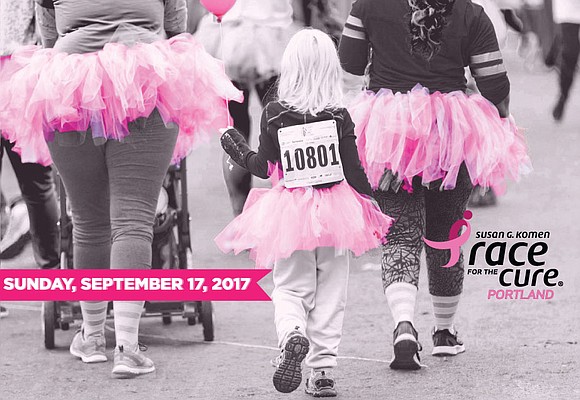 It's time to bring the battle against cancer to the streets. The annual Race for the Cure, a fundraising event for breast cancer awareness and prevention, is this Sunday, Sept.17 at Tom McCall Waterfront Park, sponsored by Susan G. Komen Oregon and Southwest Washington.
Once again, the event will include the popular 5K fun run, 5K walk and a 1-mile family walk. Three exciting new additions to the race this year include a new route which will take participants over the Hawthorne and Steel Bridge and for the first time, dogs are allowed to be officially registered for the race and a dedicated Breast Cancer Resource Zone will be featured next to Hope Village.
Fundraising for the Race is critical as it raises half of the annual resources needed in the community for fighting and preventing breast cancer.
Online registration closes at 5 pm on Friday, Sept. 15 at komenoregon.org. People can register on Saturday, Sept. 16 at the Old Spaghetti Factory on Bancroft Street, 9:00 a.m. – 2:30 p.m. and on race day, Sunday, Sept. 17 beginning at 7 a.m. at Tom McCall Waterfront Park.
Seventy-five percent of funds from this event support critical, local programs - screening, diagnosis and treatment services, safe and accurate breast cancer information, and patient navigation programs. The remaining 25 percent will go toward understanding metastasis and how to prevent recurrence and develop more effective treatment. Two leading research centers in Portland, OHSU Knight Cancer Institute and Providence Cancer Center, have received significant grants from Susan G. Komen.