Sessions Visit Met With Resistance
Mayor, protestors, oppose Trump official's plea
Danny Peterson | 9/19/2017, 5:02 p.m.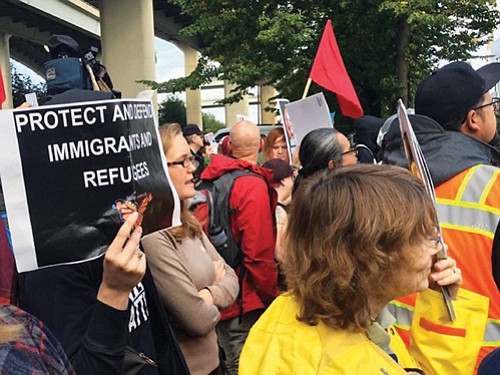 Portland pushed back against Jeff Sessions who visited Portland Monday to meet with law enforcement officials to ask them to cooperate with the Trump Administration to enforce their immigration policies.
Demonstrators from Portland's Resistance, Milenio, Voz Hispana Cambio Comunitario and others were present at all stages of Sessions' visit to protest his anti-immigration policies, criminal justice initiatives, racism, and the Trump Administration in general.
Mayor Ted Wheeler, who refused to attend the meeting in protest, sent a letter to Sessions outlying why he opposed meeting with him and clarifying Oregon's sanctuary laws.
Oregon state law dating back to 1987 prohibits state and local police from enforcing federal immigration law," Wheeler wrote.
Wheeler also said he opposes the Trump Administration's threats to pull funding from sanctuary cities and states and condemned the administration's revocation of the Deferred Action for Childhood Arrivals (DACA), which protects child immigrants, known as "Dreamers," from being deported.
"Dreamers were brought to the United States as children, through no decision of their own. This is the only country they have ever called home. Dreamers today are applying their talents to make a positive difference in our society. We should embrace Dreamers, not reject them," Wheeler said.