Respect and Success:
Lillard on young people making good choices
9/20/2017, 10:07 a.m.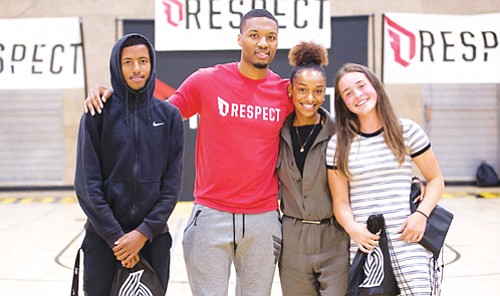 Since his arrival in 2012, Portland Trail Blazers point guard and NBA sensation Damian Lillard has placed a high priority on positive interactions with fans, especially with the young people he can influence to make good choices in life.
As the new school year begins, the Oakland, Calif. native has tipped off a re-energized "RESPECT" program to encourage Portland students to adopt core values through respectful behavior. He met with students at Roosevelt and Parkrose High Schools last week to launch the program. The two schools were specifically chosen as partners for this year's effort.
Roosevelt Principal Filip Hristic said he was very excited about the program and how it can positively influence students.
"We're so appreciative to Damian," he said. "We will be utilizing the support Damian has to offer to increase school engagement and ultimately our graduation rate. We are grateful for this opportunity."
A new curriculum for 2017 will engage students to show up, work hard and be kind: Showing up by arriving on time each day ready to engage and learn, showing respect for your family and teachers; working hard by doing your best and showing respect for yourself and your future; and being kind by showing respect and valuing the differences in others.
Throughout the year, teachers and counselors will be empowered to reward students who have embodied the program's principles with tickets to Trail Blazers games; Damian Lillard adidas merchandise; and other special giveaways.
"We are thrilled to have Damian Lillard and RESPECT as part of our students' experience this year,' said Parkrose Principal Molly Ouche. "Damian's positive role modeling and leadership will help make Parkrose High School and Parkrose students even better by providing opportunities and experiences to reinforce showing up, working hard and being kind. We appreciate his level of involvement and commitment to this work."
Lillard started "RESPECT" in 2013 during his rookie NBA season with the Blazers.
"I've always defined success as trying to be the best version of myself, and positively impacting as many lives as possible," he said.