Vanport Mosaic Showing
History center hosts show and conversation
9/26/2017, 4:37 p.m.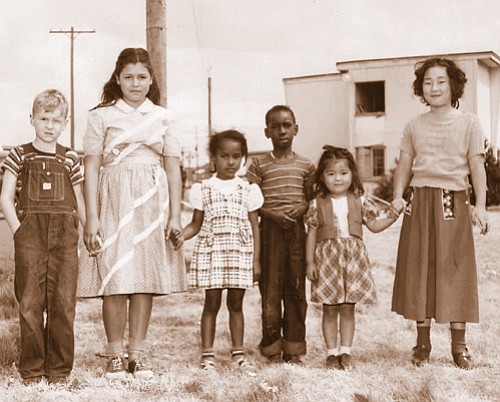 Vanport -- Oregon's second largest city before floodwaters wiped it off the map -- and the nation's largest public housing project, drew national attention and conflicting opinions during it the six years it was in existence, But for the over 40,000 people who lived there, Vanport was simply their home.
When the Columbia River flooded on Memorial Day in 1948, the entire city, located between Portland and Vancouver, was erased from the map and from much of the region's memory in a single day.
Mixing archival photographs and historical records with personal testimonies of former residents, the Oregon Historical Society hosts the exhibit "Vanport: A story Lived, A Story Told," curated by Laura Lo Forti and Greta Smith, from Thursday, Sept. 28 through Oct. 5. It is a story of migration, housing, displacement, and perseverance.
The museum at 1200 S.W. Park Ave. is also hosting a community conversation to hear about Vanport and another former town in Oregon that had deep African American roots when "From Maxville to Vanport" is held in association with the exhibit on Saturday, Sept. 30 from 3 p.m. to 5 p.m. This event is free and open to the public.
Maxville, built in 1923 in Wallowa County, and Vanport, built in 1942, were multi-cultural communities built to house workforces with significant black and immigrant populations at a time when many Oregonians were openly hostile to these groups.