Non profit helps filers as tax deadline nears
Free services help low income claim Earned Income Tax Credit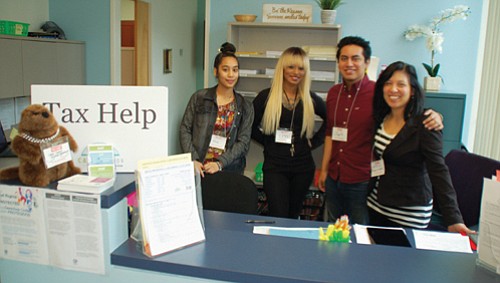 Tax season is upon us and if you're a low income worker, you may be eligible for a tax credit that averages $2,400 for recipients—that may be lower or higher depending on the situation.
A non-profit called CASH Oregon offers free tax preparation services at the Lloyd Center and numerous other locations, aimed at helping eligible recipients claim the credit, called an Earned Income Tax Credit. It can be especially helpful to families.
The tax credit, which can be worth up to $6,300, tends to be higher for qualifying individuals with children.
"For example, for a family of four making just under $20,000, [that] could be getting upwards of over $5,000 in Earned Income Tax Credit. Not an insignificant chunk of change," CASH Oregon Executive Director Sarah Adams, 41, told the Portland Observer.
The organization is working in partnership with the AARP Foundation to offer tax services at over 50 locations in the Portland metro area and across the state.
The credit is surprisingly underutilized in Oregon. Each year, 25 percent of eligible families fail to claim the credit, which adds up to $130 million annually, according to data from Oregon Center of Public Policy.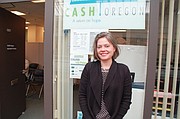 Adams said the biggest barrier people probably have to making the claim is simply filing their taxes.
"Sometimes if you make a low enough amount of money you don't actually have to file a tax return. So it may be just a very easy thing to say 'well, why bother with that hassle?' But if you don't file it, you won't claim it, you won't be able to get it," Adams said.
Of course, refunds won't occur the same day, but once received, there are no restrictions on how to spend the money.
According to CASH Oregon data, it's estimated that 55 percent of the tax refunds they helped prepare last year went to pay debt or bills, while 34 percent went into savings accounts, and another 11 percent was used to offset other expenses.

Audrey Techur and Elfina Syoziatro both sought tax assistance through the program for the first time this year after hearing about it from word of mouth. They said a refund like the Earned Income Tax Credit would really help them out financially.
"The reason I came is because it's free. I usually go to H & R Block, but it's a $300 something dollar fee," Syoziatro said.
Between CASH Oregon and AARP Tax-Aide, $54 million in Earned Income Tax Credits was made to eligible clients in Oregon last year, according to the non-profit's annual report. Over $21 million of refunds were issued in the tri-county area of Washington, Multnomah, and Clackamas counties.
The tax filing deadline is April 17 and the free tax preparation sites will be open for services through that time, except Fridays. But come early, Adams said, because the service is first-come first-serve. And be sure to bring a photo ID, Social Security card, the tax IDs of all who you are filing for, your employers W-2s and other documents related to your income, as well as tax-related expenses for the year, and last year's tax return, if you have it.
At Lloyd Center, which is the largest CASH Oregon site in the state, the hours are posted as 9 a.m. to 4 p.m. Saturday through Wednesday, and 1 p.m. to 8 p.m. on Thursdays. The offices are located on the third floor near the food court.
You can find CASH Oregon's other locations by calling 2-11 or visiting cashoregon.org/locations. The website also has links to free resources in order to file taxes yourself from home.