Knife wielding man killed in confrontation
Community in shock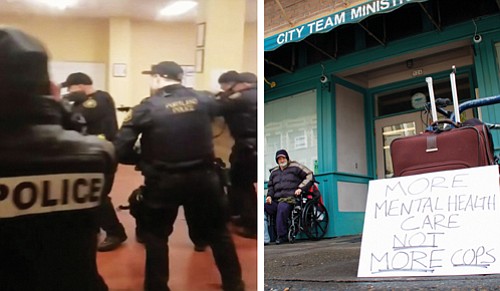 "We're obviously saddened by the tragedy that took place Saturday night. And for us it's mostly difficult because we as an organization exist to assist and serve people that are struggling with the issues of addiction and homelessness and mental illness," Giering said.
He said Elifritz had not received services from the shelter in the past.
Portland Police have been under scrutiny in recent years for their use of force against mentally ill people. A 2012 Department of Justice investigation found that the bureau was using too much force against those with mental illnesses. A report from October by outside consultants Rosenbaum & Associates noted a greater emphasis on verbal de-escalation techniques should be integrated into police training. They were tasked with evaluating the bureau's use of force as part of the settlement agreement from the 2012 investigation.
Police Chief Danielle Outlaw released a statement Sunday afternoon acknowledging the officer-involved shooting and emphasizing that the police department will keep the public informed of details as the investigation unfolds.
"The Portland Police Bureau values human life and accepts the authority to use lethal force with great reverence," said Chief Outlaw. "I am aware a video was taken of this incident by a community member and that video was posted to the internet. Please be reminded that deadly force investigations are extremely complex and take time. The Police Bureau is committed to transparency and will ensure the entire investigation is released in a timely manner that does not impact the integrity of the investigation."
Mayor Ted Wheeler also released a statement Sunday night urging the public to "allow investigators to do their work, uncover the facts, and to report on their findings."