Running for County Chair
D. Bora Harris sets priorities in campaign
4/11/2018, 12:03 p.m.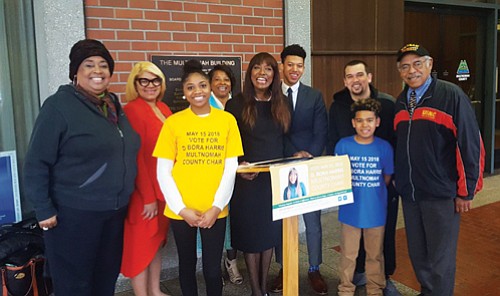 Championing the causes of the elderly, homeless people, affordable housing, and the interests of children, D. Bora Harris, a business specialist and consultant from the black community, formally launched her candidacy for Multnomah County Chair on Friday at the Multnomah County Building in southeast Portland.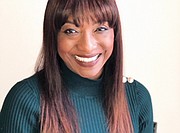 Harris has a Masters degree in public administration, experience in both the public and private sectors and has been active in politics and various community organizations for decades. She is president of D. Harris Leadership Institute, a limited liability corporation where she developed the "Move Beyond Your Walls Initiative."
"The race is about us," Harris said, in a news erlease announcing her candidacy in the May Primary Election. "We the people of Multnomah County are in desperate need of a county chair who reflects good and fair government. Multnomah County is a shining county, yet there are so many places and spaces where that glitter does not glow."
Harris calls for a solution and resolution driven agenda on the county level to improve the quality of life for our elderly and uproot the causes of high dropout rates and excessive absenteeism among our children in schools.
We need to provide "livable" places for our homeless to call home and provisions for affordable housing in places where neighbors know our name," she said.
Harris takes aim at current Chair Deborah Kafoury who is running for re-election. She cites Kafoury for failings to address what she calls institutional systemic racism in the county workforce and blasts the county's top elected official for a vulgar attack against another member of the county commission earlier this year. Kafoury later apologized for calling Commissioner Loretta Smith a b---- during a public meeting.
Harris says she would like to see creation on an Ombudsmen office to work as advocates for the public and help resurrect a merit council to represent union and non-union workers respectively when a work-related complaint needs to be filed.
Harris cites her business experience managing facilities in Georgia, Oregon and southwest Washington for a multi million dollar private sector corporation. In the public sector, she has helped navigate Oregonians from diverse socio-economic origins through complex government programs as a consultant.
She received her Bachelor of Arts degree from the University of Arkansas and Master of Public Administration from Portland State University. A licensed evangelist within the Church of God in Christ international community, Harris commented "whatever endeavor I am called to pursue, I place that spark of hope in my heart and walk through it in faith. Having a purpose and a passion for the people I serve gives me the courage, the determination, and belief that my run for this race is not in vain."
"When we as leaders remove ourselves from our comfortable four wall environment into the communities, onto steps, stairways and paths less traveled, we then hear the real voices of the people in our communities. We must work together to make a difference and inspire solutions," she said.