New School Model Lauded
Faubion-Concordia school partnership a pathway to progress
Dr. Jill Biden, the wife of former Vice President Joe Biden, said a new public and private partnership between Concordia University and Faubion Elementary is a shining example of making powerful changes in education that can lift an entire community.
The former Second Lady was the guest of honor and keynote speaker at Concordia's annual Gov. Victor Atiyeh Leadership in Education Awards. The 7th annual event celebrated Faubion and Concordia's new "3 to PhD" partnership. Biden toured the school before Saturday's ceremony.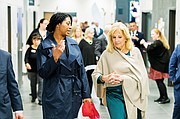 Located at Northeast 29th and Dekum, Faubion opened the school year in a new building next to the Concordia campus thanks to a voter-approved property tax levy by Portland Public Schools and a contribution of $15.5 million by Concordia and its supporters.
The three-story structure is not only a new home for the school but also a new model for education by promoting the health and wellbeing of all students and their families. The entire Concordia College of Education is embedded inside the school where they can work with their younger learners and gain valuable teaching experience.
Additional partnerships with Kaiser Permanente and Trillium Family Services help Faubion students and families meet basic needs like medical care and meals.
An early child education center, health clinic, food pantry and maker space to inspire 21st century learning in engineering, math and science are some of the new resources aimed at providing social, educational and wellness services.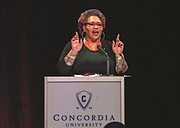 The aim is a safer, healthier and more educated community and a pathway to progress for the disadvantaged. The mission begins by helping families obtain prenatal care and progresses to helping children pursue and obtain their educational dreams from pre kindergarten age to college and beyond.
Serving a large population of low income and racially diverse families, Faubion's private and public partnerships are designed to close the opportunity gap and ensure that every child can fulfill their potential. Donations raised during the awards ceremony and from ongoing efforts fund student scholarships.
Biden, a long time educator who teaches English at a community college in Virginia, praised Portland and the Concordia and Faubion communities for shaping a better future for kids, a vision education advocates at Concordia hope can be replicated across the country.
Biden spoke about the power one person can hold to make life better for others, encouraging families and individuals to seek help when they need it, saying to lean on each other is one of the most courageous things we can do.
She also shared some of her own experiences helping and reaching out to family, friends and colleagues in times of difficultly, including when the Bidens' son Beau, a state Attorney General in Delaware was diagnosed with cancer and eventually lost his life to the disease in 2015.
Our personal strengths alone are often not enough to get you through, she said.
Biden said she relished the hugs and emotional support she has received from others, including her students.
"We carry the weight of our lives together. Small acts of kindness are some of the most courageous things we can do," she said.
On behalf of the entire "3 to PhD" community, Kimberely Dixon, a Faubion parent and community leader, accepted the Concordia 2018 Gov. Victor Atiyeh Leadership in Education Award.