Nursing Students Rebound
4/18/2018, 10:52 a.m.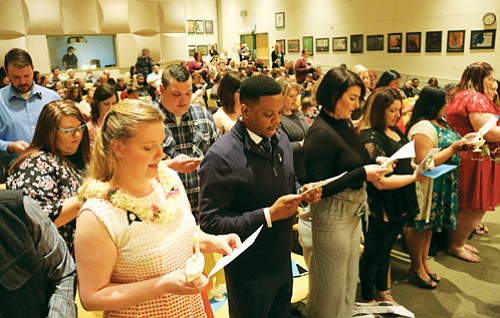 A temporary program to support nursing degree completion for former students of the ITT Technical Institute has concluded with exceptional success.
Of the 140 displaced students who enrolled in a program established by the Higher Education Coordinating Commission and Portland Community College after the sudden closure of the for-profit ITT, 133 students or 95 percent of them graduated.
The final nursing pinning ceremony was held April 5 at PCC Breckinridge where the last group of students in the program graduated with two-year Associate Degrees to become registered nurses (RNs).
Ben Cannon, executive director of the state commission, commended the students and all who supported them.
"Congratulations to the graduates for their dedication and success, and tremendous thanks to our student-centered partners at PCC and the Oregon Legislature who came together to make this possible," Cannon said. "Many of these students were so close to finishing their degrees but without viable options when the state stepped in. This was an innovative partnership that resulted in the exact outcomes we hoped to see."