New Documentaries Worth Watching
Reviews from the Full Frame Documentary Festival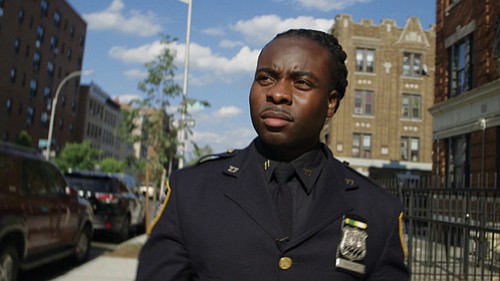 To close out my report on the Full Frame Film Documentary Festival, I offer some thoughts about the films I saw in the last two days of the festival in order of my own appreciation. The first three, especially, are well worth seeking out.
"Crime + Punishment" won a special jury prize at the Sundance Film Festival and is the product of some fantastic investigative reporting by director Steven Maing. He follows the NYPD12, a group of New York police officers of color who risk their safety and careers to expose systemic racism in the police department in the form of quota systems that target communities of color. Even after quota systems were "officially" outlawed, they continue in the form of barely-tacit pressure to issue the requisite volume of summons and arrests each month, a practice which police leadership brazenly denies each time they are confronted. The officers at the center of this film are impressive in their courage, and the film serves as an excellent and hard-to-capture depiction of the relentless determination that it takes to challenge systemic oppression. It is little wonder that so few people find the inner resources to challenge structural wrongs when it is so much easier to allow the system to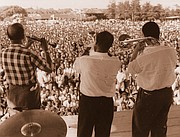 dictate what is actually happening, even when the agreed-upon story contradicts so much other evidence. Both the film and its subjects evince awareness that these officers are fighting only one piece of a still-larger system that has produced mass incarceration and other devastating effects on communities of color; this documentary is a primer on the importance of standing up and telling the truth about the pieces happening inside one's own orbit. Follow the film at http://crimeandpunishmentdoc.com/.
"The Jazz Ambassadors" tells a fascinating and complex story very well. During the height of the Cold War in the 1950s, the U.S. and the Soviet Union were engaged in propaganda campaigns against each other, and the Soviets were all over the ugly facts of American racism. At the same time, the U.S. sought to win the propaganda war and curb the spread of communism with a program that sent American jazz musicians like Louis Armstrong, Duke Ellington, Dizzy Gillespie, along with their mixed-race bands, to play all over the U.S.S.R, Asia, and Africa. How did this plan originate? Why did the musicians agree to do it? The answers are far more complex and inspiring than I imagined; among other things, one of the first black congressmen, Adam Clayton Powell Jr., conceived the plan and sold it in Congress; the musicians saw how they were being used, but also grabbed the opportunity to show up as themselves and to let the power of their music and personalities changes hearts and energy in ways the power structure scarcely grasped. They also gained a window on freedom movements around the world, and brought back perspective that impacted the movements for civil rights at home. The music here is amazing (a soundtrack album is planned) and, supported by amazing footage and astute expert commentary, the film offers is an unexpectedly inspiring story of how it is possible to employ resourcefulness that is not overly distracted by the agendas of the powerful. This PBS documentary is will air on May 4 and hopefully will have an online release as well.
"Sky and Ground" follows the journey of one Syrian family from a refugee camp near the Greek-Macedonian border across seven countries to join family members in Germany, where they hope to start a new life after escaping Islamic militants and the Assad regime in Aleppo. But it is by no means a straight path; this film conveys a concrete sense of life in a refugee camp, the danger of travelling with few resources while struggling to avoid detection for fear of being sent back to the chaos of a camp or, worse yet, some form of imprisonment; the heightened stakes that can lead to assuming the risk of hiring transportation that can lead to other problems. The filmmakers were quite resourceful in capturing an important story of vulnerable people; not wanting to expose them to further danger, they allowed the family to film themselves a good portion of the trip, but also spent enough time with them to build an intimate portrait of a perilous journey that far too many people must make. I was so struck by the senselessness of what refugees experience simply trying to find safety; this film has the potential to help us become far less comfortable with how we treat people who have lost everything and simply want a place to build a functional life. You can follow the film at http://www.humanityonthemove.org/.
"The Pushouts" aims to help viewers understand and engage with a segment of kids whom society essentially throws away as impossible to help. We often refer to them as dropouts but, according to Dr. Victor Rios, a better term would be "pushouts," because the combination of their challenging circumstances and lack of any real effort to meet these black and brown kids where they are essentially pushes them out of engagement with education and into drug use, criminal activity, and hopelessness. Rios should know; his own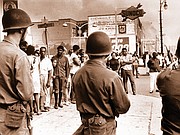 impossible life challenges found him, at age 15, with a criminal record and no hope. Now a professor at UC Berkeley, he is a compelling focus for examining the forces arrayed against poor kids of color and the sort of personal investment that can help them reframe their lives. Follow updates about the film at https://www.facebook.com/thepushouts/.
"12th and Clairmount" - Fifty years after the 1967 Detroit uprising, it is hard to locate a coherent story of those events. This doc is an attempt to examine that history through those who lived through it, assembling home movies and oral histories of many people who lived through those events to tell the story as it appeared to them. The assemblage has some power, capturing a sense of the signs that lurked, unnoticed, beneath the communal story of Detroit and the misunderstandings that bubbled to the surface during those devastating days in July. Director Brian Kaufman elected not to attribute any of the voices, which I found frustrating at times because it robbed the viewers of the capacity for assessing the various social locations at play. Nevertheless, the compilation here is a powerful one, and an opportunity for some deep listening to the perspectives who weathered the confusion and loss of innocence in their bodies. You can follow the film here: https://www.facebook.com/12thandClairmount/.
"Maynard" is an admiring look at former Atlanta mayor Maynard Jackson, the first black mayor of a major southern city. Although I did not experience this as a particularly critical examination, it does convey a sense of his significance; Jackson is royalty in the black community, and the film makes a case for why that makes sense. His first wife and the mother of three of his children speaks of him with notable appreciation, despite having experienced the challenges of being somewhat left behind in Jackson's push to make Atlanta great; his second wife and his children similarly speak of him with genuine admiration, even while conveying a sense of loss over his absences. The film grounds Jackson's achievements as mayor in the time periods when he served, conveying a sense of how hard he had to fight to lead in a context where leadership from a black man was neither wanted nor trusted. One cannot help admire Jackson's single-minded and affable determination. This feels like essential history, and you can follow the film here: https://www.facebook.com/maynardmovie/.
"America to Me" is a documentary series that will air this fall on the Starz network. Director Steve James ("Hoop Dreams" and "Abacus: Too Small to Jail") embedded in an Oak Park, Ill. high school that is recognized for its racial diversity but which reflects an achievement gap between white students and students of color. The film seeks to interrogate the forces that can lead students of color to lag behind even in a resource-rich school; I thought, after watching the first two of 10 hours of the series, that so much time and access (and good editing) did yield some suggestions of systemic racism, but wondered if James is the right person to tell that story. In questioning the filmmaker after, his answer did not suggest that he and his crew undertook anti-racism training that would have helped them ask the right questions of what they were seeing. Still, James knows how to tell a story, and here he has collected an interesting window into the current state of race relations in America.
"América" focuses on a family in Mexico providing care to an elderly grandmother, América. Her three adult grandsons end up serving as her caretakers after their father (her son) is jailed for elder abuse; the film takes the time to observe the family over many months, as the young men struggle with how to care for América, who is frail and exhibits signs of dementia. There is love, and frustration, and some windows into Mexican life, along with a carefully observed family portrait that earned the film's directors an emerging artist award.
Darleen Ortega is a judge on the Oregon Court of Appeals and the first woman of color to serve in that capacity. Her movie review column Opinionated Judge appears regularly in The Portland Observer. Find her movie blog at opinionatedjudge.blogspot.com.