A Business Tax for Climate Justice
Advocates say ballot measure supports communities of color
Beverly Corbell | 8/1/2018, 9:42 a.m.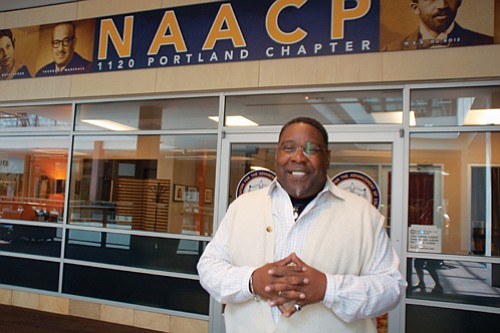 It's high time big business does its part to support communities of color. And that means backing a proposed Clean Energy Fund to combat global warming and provide job training and help forming new businesses for the diverse and low-income populations impacted by pollution and changes in the economy.
That's the message of Rev. E.D. Mondainé (pronounced MON-de-nay), president of the Portland chapter of the NAACP, pastor of the Celebration Tabernacle in north Portland, and primary spokesman for the Portland Just Energy Transition Initiative or PDX04.
Poised for placement on the ballot this November, the measure would require big businesses in Portland to apply a one percent surcharge on their sales in the city if the business has at least $1 billion in annual revenue and at least $500,000 of that revenue from within the city limits. Most groceries and medicine would be exempt.
The Clean Energy Fund would be used to encourage and promote eco-friendly measures such as weatherproofing and solar installations, and to train low-income people to do the work and eventually open their own businesses and create even more green jobs.
"We plan to raise about $30 million dollars (annually) which will help us do better weatherization, create jobs for energy efficiency, solar power, etc., and to make the heavy load of home utility bills a lot lighter," Mondainé said.
He said the revenue would offset the "green injustice and climate injustice" that is happening locally and all over the world.
"Big corporations are adding to climate injustice by not having to pay the kind of taxes that are necessary for reparations for what they've taken out of the community, especially communities of color," he said.
Mondainé pointed to the late civil rights leader Martin Luther King Jr. as an example for someone who paved the way for identifying all kinds of injustice, including environmental injustice, and he pointed to his own childhood in public housing as an example of living under poor environmental conditions.
"My lived experience as a child in south St. Louis was to wake up to the smokestacks of Peabody Coal, Monsanto, Ralston Purina and Anheuser Busch," he said. "And, of course, the incinerator systems that ran 24/7 in the projects left us with all kinds of health disparities."
Mondainé said he has suffered from chronic asthma and had to have tubes in his ears until he was 40, but many of his friends suffered harsher fates because of pollution in economically deprived neighborhoods.
"Many of my childhood friends have died before the age of 50 because of pulmonary disease and cardiac discrepancies," he said.
The idea for the initiative began with former NAACP director Jo Ann Hardesty, who is running for Portland City Council, and a few others, Mondainé said. To get on the November ballot, it required backers to gather 34,000 signatures, but the measure had more than 60,000 signatures when it was turned in to the Secretary of State on July 6. The initiative's eligibility will be determined by the state office by Aug. 6.