Freeway Ramp Closure: I-84 West to I-5 North
8/1/2018, 10:52 a.m.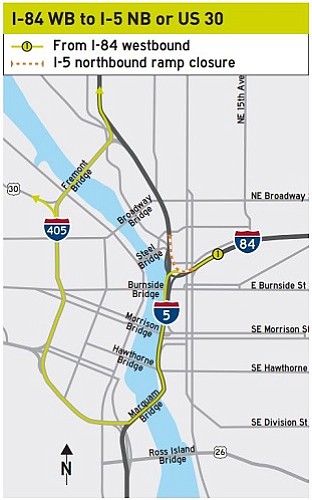 Expect traffic delays in the coming weeks as freeway construction of I-84 and I-5 ramps continue. I-84 westbound from Lloyd Center to I-5 northbound, a ramp that closed last week, will remain closed until 5am Monday, August 6 and only the far left lane will be open on I-84 west while construction occurs.
To detour from this week's ramp closure, Oregon Department of Transportation recommends taking I-5 south across Marquam bridge, then I-405 north,and resume course either at US 30 west or I-5 north, crossing the Fremont Bridge (pictured). Traffic delays on city streets should also be expected.
It's the second of three major ramp closures to occur this summer, which accommodates ODOT's replacing of the concrete and steel that carried 147,000 vehicles on an average day. The maintenance, called the I-5 at I-84 Rehabilitation Project, is needed to keep bridges functioning in the coming decades, ODOT stated, though 5am to 11pm gridlock should be expected as a result. Use of public transportation, like the MAX trains that run along I-84, is also recommended.
To help alleviate traffic woes, ODOT released a "Gridlock Grooves" playlist on music service Spotify.

In addition to this week's closures, I-84 west to I-5 south ramp will be closed from 10pm Friday August 17 to 5am Monday August 27.
Ramps will also close overnight from 10 p.m. to 5 a.m. and possibly for full weekends from now through November as construction continues through the end of the year.
Up-to-date ramp closure schedules are posted at i84Construction.org.