Neighbors Consider Proposed Greenway
8/1/2018, 10:27 a.m.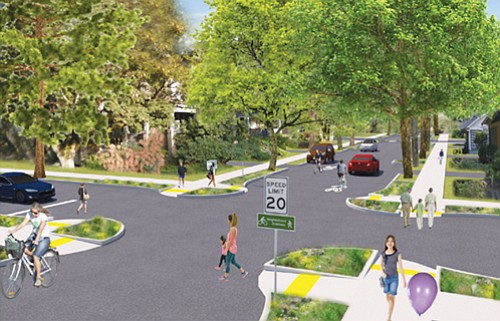 The King Neighborhood Association wants feedback from area residents on a proposed greenway and their input on the preferred route. To better meet the needs of bicyclists and pedestrians, the city has proposed designating a street as a greenway through the neighborhood, originating in the Lloyd Neighborhood and going north to the Woodlawn Neighborhood.
A community meeting to discuss the issue will be held Wednesday, Aug. 8 from 6:30 p.m. to 8 p.m. at the Northeast Coalition of Neighborhoods offices at 4815 N.E. Seventh Ave.
Portland Bureau of Transportation has released design concepts for two route options for the Greenway: Northeast Seventh Avenue and Ninth Avenue. The final alignment could also be a combination of the two routes.
The King Neighborhood said it asked residents to weigh in on the choices because the routes may close automobile traffic lanes in some areas, cut through Irving Park and otherwise impose "considerable impact."
Nick Falbo, senior transportation planner for PBOT, will give a presentation on the two routes and be available for questions.
In addition, interested neighbors may review the proposed routes and make comments by going directly to the Greenway Project's website at PortlandOregon.gov/Transportation/L2W.