Outlaw Defends Response
Crowd control tactics will be reviewed
8/8/2018, 10:10 a.m.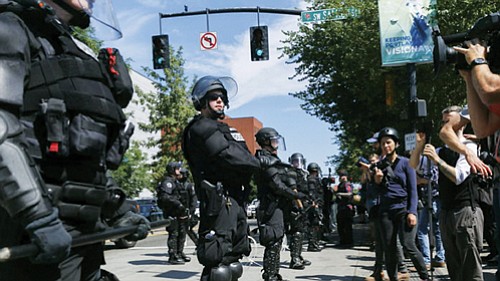 Portland Police Chief Danielle Outlaw is defending the crowd control tactics police used for dueling demonstrations that happened Saturday and resulted in multiple reported hospitalizations, including chemical burns, lacerations, and a reported brain injury.
The injuries were sustained from crowd-control munitions fired by police, according to multiple news outlets and from activists on social media. Four arrests were made.
The right-wing Patriot Prayer held its rally Saturday morning at Tom McCall Waterfront Park in downtown Portland while counter-protestors, including from anti-fascist group antifa, assembled in the same general area.
Police received criticism for their use of crowd control tactics, including the use of flash-bang projectiles, which Outlaw said police would temporarily stop using in light of multiple reported injuries from them. One shell reportedly lodged into the helmet of a protester and caused brain trauma.
Outlaw contended that the crowd-control measures were taken only after demonstrators fired their own projectiles, including an m-80 explosive.
Others who were present, including protesters and some journalists saw the opposite—flash-bang grenades thrown by police, followed by projectiles from protesters. There are two separate videos on social media that purportedly show police's first use of a flash-bang grenade that day, each from different angles. One was posted by KATU-TV photojournalist Ric Peavyhouse and another by Twitter user danielvmedia.
Relief that the protests didn't get any more violent, and didn't result in more serious injuries or fatalities, was a point lauded by Portland Mayor Ted Wheeler. He said police accomplished their goals of keeping opposing groups separated, protecting lives. He added that Outlaw authorized an internal review of police tactics in response to the protester's injuries.