Tracking the Hate behind Measure 105
Ballot to kill sanctuary law draws a fight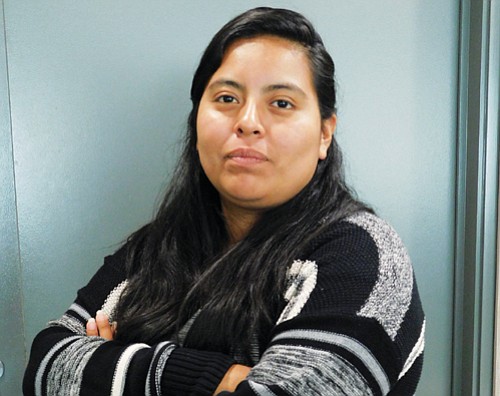 Cristina Marquez is determined to fight back against racial profiling in our state. Marquez is Director of Advocacy & Civic Engagement for Causa Oregon, part of the broad coalition, Oregans United Against Profiling, which is urging citizens to vote against Measure 105 in the November ballot that would negate the state's 31-year old sanctuary law.
"This law was passed because at the time we were seeing a lot of racial profiling," Marquez said. "So lawmakers, with broad support from both Democrats and Republicans, decided to pass this law to ensure that racial profiling wasn't something that was a norm in Oregon."
Measure 105 (Initiative Proposition 22) seeks to roll back that reform and is sponsored by the Repeal Oregon Sanctuary Law, which is funded by Oregonians for Immigration Reform and the Federation for American Reform. According to the Associated Press, both groups are classified as hate groups by the Southern Poverty Law Center, which tracks hate groups throughout the U.S., including the Ku Klux Klan.
To offset that effort, Oregans United Against Profiling, which includes the American Civil Liberties Union of Oregon, launched a kickoff campaign on July 28 where more than 500 volunteers went door-to-door and canvassed in more than a half dozen communities "from Astoria to Medford and Bend to Portland" to spread the word to "Vote No on 105.
"We're working hard to make sure that our friends and neighbors to vote no on Measure 105 and we went to different businesses across the state to gain support and put up our posters to show that we won't allow this law to pass," Marquez said.
It all started than 40 years ago, in 1977 in the Hi Ho Restaurant in Independence, Ore. A local police officer and three Polk County deputies came into the café and confronted four Hispanic men about their citizenship status. A deputy grabbed the arm of one of the men, Delmiro Trevino, made him stand up and interrogated him in front of other customers. Trevino, of Mexican descent, was a U.S. citizen and said he was humiliated. He later filed a class action suit about the incident, which evolved into Oregon's sanctuary law.
Ten years later, Trevino's attorney, who by then was Rep. Rocky Barilla, introduced a bill that became the nation's first sanctuary law. It passed with almost unanimous bi-partisan support in July 1987.
Ironically, Barilla told Oregon Public Broadcasting last year, the statute was not intended to be a sanctuary law, but "was meant to protect local city resources from using them to supplant federal spending," he said.
But because local government agreed and supported his bill, it became law.
Civil rights leader Ramon Ramirez of Woodburn, according to the ACLU Oregon website, says he remembers what it was like before the sanctuary law was put in place.
"Before Oregon had this law, I saw immigration agents, aided by local police, busting down doors and grabbing people off the street, with no way of knowing their immigration status," he said. "My friends and neighbors, including U.S. citizens, were being harassed by local police demanding to see their papers. Passing this law made things a lot better. Throwing it out would turn back the clock and open the door to more profiling."