Apprenticeships to Strengthen Middle Class
Learning a trade key to honest, blue-collar life
Dr. Karin Edwards | 8/15/2018, 6 a.m.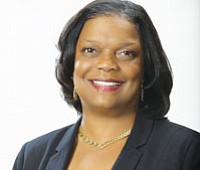 At one time, the manufacturing sector of the American economy was the backbone of the strong middle class. There were days when a young man or woman could walk out of high school and into a solid factory job that paid for the American dream – a house, a good standard of living, and a little extra cash to put away to send the kids to college.
We haven't lived in that America for a long time. Manufacturing is still a significant part of the economy, but over the decades many factory jobs have left our shores in search of cheaper labor, to be replaced in large part by lower-paying, service-sector jobs.
Believe me when I say, though, that there still exists a career path for people who place value on knowing a trade, working with their hands, and living an honest, blue-collar life – and the first step on that path is apprenticeship.
There is a growing need in America for people to work the kinds of jobs that can never be outsourced: electricians, welders, millwrights, carpenters, fabricators, stationary engineers, industrial mechanics, and the like. As the Baby Boom generation ages out of the workforce, the demand for these workers will only increase.
To give you some idea of the scope of possible career opportunities in the trades at the moment, consider the building boom currently under way in the Portland area.
According to the Portland Business Journal, the construction industry in Oregon added 104,800 jobs in 2017, an increase of 10.5 percent over the previous year. Many of those jobs are being created in Portland – in the neighborhood of $8 billion is expected to be spent on public projects alone in the next five years – and where construction is taking place, there is a need for skilled workers.
For those people ready to step into a career in the trades, the question is "How do I get started?" The answer, as it is for so many careers these days, is community college.
At Portland Community College's Swan Island Trades Center, pre-apprenticeship students can learn the basics of a career in the trades as they prepare to apply for a registered apprenticeship governed by a state Joint Apprenticeship Training Committee (JATC).
There are many certified pre-apprenticeship programs in Oregon; what sets PCC's apart is the breadth of its curriculum and the amount of workplace exposure that students receive before graduation.
Students in the Pre-Trades Career Pathway – a one-year certification program – receive a broad orientation to the trades: terminology, a 30-hour OSHA safety training, materials handling, hand and power tool use, task planning, construction methods, and much more. In addition, they receive a thorough introduction to the kinds of measurements and calculations that tradespeople conduct every day on job sites of all kinds, as well as training on how to use modern measuring tools like micrometers, calipers, dial indicators, and the like.
It's important, too, to note that – in accordance with our core values as an institution – PCC is making a concerted effort to diversify the ranks of our trades students. Like many lines of work, the trades have been for many years dominated by men and, to a lesser extent, by white people. PCC's trades programs are directly addressing these imbalances and creating opportunities for underrepresented communities by recruiting more women and minority students, and by offering courses like Equity in the Trades. This class covers the long history of inequity in the skilled trades, introduces strategies to facilitate positive change, and empowers students to be effective advocates for greater inclusivity on the job.