Apprenticeships to Strengthen Middle Class
Learning a trade key to honest, blue-collar life
Dr. Karin Edwards | 8/15/2018, 6 a.m.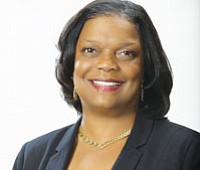 PCC's Welding program offers a good example of this. Over the past five years, since 2013, the number of women enrolled in the program has grown by nearly 50 percent. It's by diversifying the training ranks of tradespeople that we'll eventually see more diverse ranks on the job.
Taken together, the knowledge and experience imparted by the Pre-Trades Career Pathway leaves a pre-apprenticeship student about as prepared to step into a full apprenticeship as they could possibly be. PCC's pre-apprenticeship program isn't a guaranteed ticket to a full apprenticeship, but it stands students in good stead: Of those students who took the Trades Preparation course in in the past year (and who responded to PCC's inquiries), 36 percent reported either a successful placement in a registered apprenticeship or finding other employment in the trades.
And with the advent of a new, first-of-its-kind partnership with Madden Industrial Staffing – an employment agency for industrial workers – a new horizon of apprenticeship opportunities is open. PCC/MAP (short for PCC/Madden Apprenticeship Program), which came online in January of this year, harnesses Madden's vast network of industry connections to pair apprentice Industrial Fabricator/Welders with employment opportunities and work experiences that advance them along their career path. PCC serves as the program's educational provider, designing and delivering instruction in innovative ways that maximize students' access to gainful employment. Madden's connections also facilitate an ongoing dialogue between PCC and industry experts, helping to ensure that PCC's training curricula remain at the cutting edge.
The world is changing, it's true, and the workplace along with it. But the old adage that says if you work hard and study hard, good things will happen -- still holds true. If you're willing to put in the time, PCC can help you get there.
Dr. Karin Edwards is president of Portland Community College's Cascade Campus. To learn more about PCC's pre-apprenticeship programs, visit pcc.edu/programs/apprenticeship/pre-trades.html. Pre-Trades information sessions are held on the first Tuesday of every month at the Swan Island Trades Center, 6400 N. Cutter Circle in Portland.