Betting on Diversity
Filmmaker creates jobs incubator for blacks, females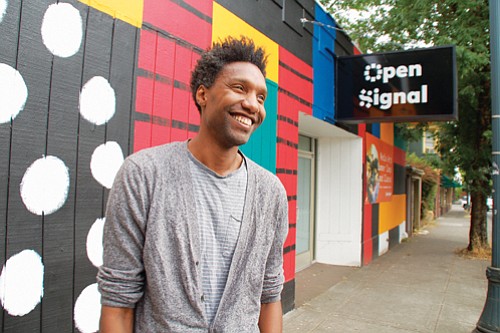 With more and more films by black writers, directors, and stars hitting movie theaters each year—like this year's box office smash Black Panther—it's no wonder why community media organization Open Signal is betting the future of media is black with their new incubator for local African American filmmakers, called "Open Signal Labs."
"We hope to create a safe space immune from outside influence that will inspire true innovation and authentic stories of black Americans," Ifanyi Bell, the program's director, said.
A 12-month pilot "fellowship and laboratory for creative investigation," which held its orientation at the beginning of this month, convenes six film makers from Portland's black community at the organization's public access center in northeast Portland in part to help bolster female and minority representation in professional media careers. Only 5 percent of the top 1,223 directors in the country between 2007 and 2017 were black, and only four of them were black women, according to a 2018 University of Southern California study.
"This is the kind of initiative that our organization has been missing all along," Open Signal Executive Director Justen Harn said, citing the responsibility of a community organization in a historically black neighborhood.
The fellowship is the brainchild of Ifanyi Bell, an accomplished and Emmy-nominated African American filmmaker who grew up a mile and a half north of the original 35-year-old Portland Community Media building at 2766 N.E. Martin Luther King Jr. Blvd, which was re-launched at its same location as Open Signal in 2017.
Bell, 39, had been floating the idea of having a black filmmaker fellowship to Harn, and others in the film industry, for the past two years before it was finally brought to fruition.
"In the years leading up to my first conversation with Justen, I'd been doing a lot of independent work and freelance work for places in New York City and in Philadelphia. And in my spare time I would visit a lot of festivals and I would talk about creating something just like this, for black creative people around the world, really," Bell said.
Using his connections in the film industry, Bell will be bringing in successful black media professionals from across the country to add to his own mentoring, including Los Angeles actress and producer Keena Ferguson of the Emmy-winning FX show "Atlanta" and New York based director Che Broadnax. Portlanders Ime Etuk, who was the first assistant director of the Netlfix show "Everything Sucks;" and authors David Walker, Renee Watson, and Mitchell S. Jackson will also lend their support.
Kamryn Fall, Elijah Hasan, Tamera Lyn, Sika Stanton, Noah Thomas, and Dustin Tolman are the project's fellows, while local filmmaker RaShaunda Brooks will act as production coordinator for the program. The filmmakers are slated to screen some of their work a year from now, and Bell said he expects thematic similarities to arise.
"One thing that I've talked with a lot of the fellows about in leading up to this point is a lot of our stories--because some of the folks grew up here, because of our identity and culture--I think there's a lot of overlap in terms of what kind of stories we can tell."
Because of that overlap, Bell said, it will free up the cohort to get into the "nuts and bolts of how to create empathy with our audience," rather than trying to decide on subject matter.
A $2,000 year-long stipend, training, access to industry-standard equipment, staff and actors from Artists Repertory Theatre, and connections to the field via the Oregon Governor's Office of Film & Television, will be provided to the fellows.
In Bell's own illustrious career, which ranged from creating national public television educational programming to being on the production team of big name Hollywood films, like "Mystic River" and "The Departed," it was a fellowship for WGBH in Boston, Massachusetts that first gave him the taste for public media production after college.
Bell returned to Portland when he had a child in 2010. He worked for Oregon Public Broadcasting from 2011-14 and later for WHYY in Philadelphia, Penn., covering gentrification radio and web-based video stories.
His 2014 personal essay, "The Air I Breathe," and a subsequent video, "Future: Portland," both created for Oregon Humanities, were poetic takes on what it means to be black and displaced in Portland.