Fabricator's Death Goes Unsolved
8/15/2018, 6 a.m.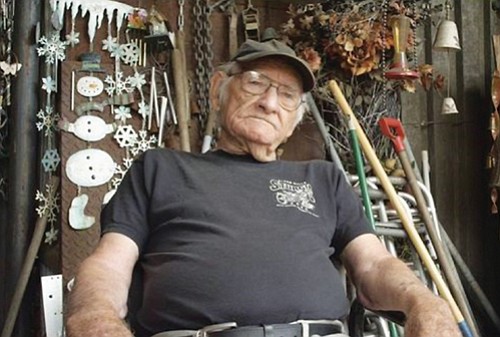 Portland police are asking help from the public in solving the homicide of Eugene Gora, a much beloved neighbor, legacy fabricator, and welder whose red shop was a landmark at the corner of Northeast Martin Luther King Jr. Blvd and Skidmore Street.
A cash reward of up to $2,500 is being offered for any information about the case, for which homicide detectives have not determined any suspects.
Gora's Welding and Fabrication at 4232 N.E. Martin Luther King Jr. Blvd was the 85-year-old's place of business, residence, and the location where he was discovered, deceased, by a friend on May 10.
Medical and emergency personnel, who responded at 6:30 p.m. that evening, confirmed that he was deceased upon arrival. The Oregon State Medical Examiner's office cited "homicidal violence" as the cause of death.
Gora's custom fabrication work ranged from barbeques to elaborate artwork that added unique flavor to surrounding north and northeast neighborhoods for restaurants, shops, or in people's yards.
In the months leading up to his death, Gora was trying to sell his property and possessions. He held an estate sale in late April after receiving nuisance complaints from the city for debris and vehicles in his yard, as well as a citation for residing in what was zoned as commercial property for over 40 years, a city official said.
Police said information learned from social media sites may lead to the identification of suspect(s) and can be shared anonymously through their partners in justice, Crime Stoppers of Oregon.
To submit an anonymous tip, call 503-823-HELP (4357), download the app 'P3 Tips,' or submit online at p3tips.com/823.