Hardesty Focused on the Issues
Frontrunner has boots-on-the-ground campaign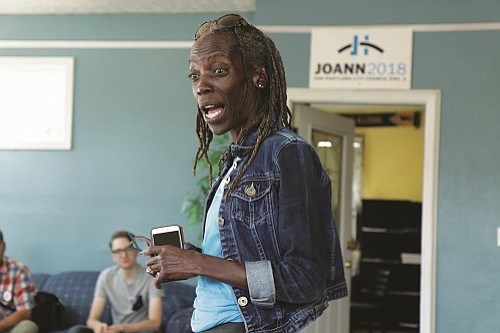 The Navy veteran who is originally from Baltimore, Maryland, is also pushing for free transportation during rush hour, two hours in the morning and two hours in the evening. She hopes this will not only bolster citizens' ability to attend local government meetings, but also reduce greenhouse gases and alleviate mounting traffic congestion from the some 45,000 people who move to Portland each year, Hardesty said.
"I think once we realize how much more convenient that's going to be for people that work traditional shifts, then we'll be able to make the case for why having free public transportation will have an impact on climate change and reducing fossil fuels in the air."

In addition, Hardesty backs a Clean Energy Fund, also on the ballot in November. The initiative would require big businesses to pay a surcharge of one percent of their gross revenues from retail sales in Portland, if they make one billion dollars in annual revenue and more than $500 million within the city limits each year (basic groceries, medicine, and health care services would be exempt from the surcharge). The revenue would be used to encourage and promote eco-friendly measures like retro-proofing old houses to make them more energy efficient and to train and create jobs in the green energy field for low income people. Hardesty backed a steering committee made up of non-profits representing communities of color that supports the measure.
The expected $30 million of revenue generated from the Energy Fund each year would be managed by a community oversight committee, similar to what is in place for the Portland Children's Levy, Hardesty said. She also asked Mayor Ted Wheeler to assign management of the fund to her portfolio to supervise and implement, presuming it passes and she is elected.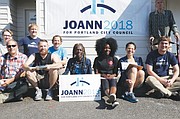 On the issue of housing and homelessness, Hardesty advocates for hiring homeless people at minimum wage to clean up garbage in the city and provide hot meals and showers to other homeless people through "mobile units." The cost would be just 10 percent of what the city currently spends on their handling of homeless people using police, Hardesty said, and was inspired by similar programs that have taken place in other cities.
"If we allowed people to self-manage themselves, we'd have a whole lot less trash, and we'd have a whole lot less complaints from other community members. Everybody needs a safe, affordable place to lay their head at night," Hardesty said.
Hardesty also supports rent control, tenant protections, resident relocation assistance, and working with realtors to create housing options at all income levels. In addition, she wants to nix monthly pet rental fees for housing.
She called the current state of Portland's law enforcement record involving homeless people "inhumane," citing a recent report that stated over half of all arrests by city police last year were of homeless people.
Hardesty is calling for sweeping changes in Portland's law enforcement policies in light of officer-involved fatal shootings of people with mental illnesses in recent years, including using firefighters as responders to those experiencing a mental health emergency.