Clyburn in Line for Speaker
8/22/2018, 10:39 a.m.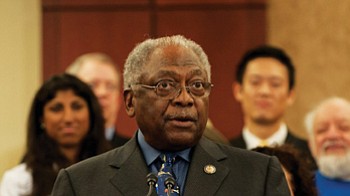 In an exclusive interview with the Black Press, Rep. Jim Clyburn, D-S.C., said he would be up for the challenge of replacing Rep. Nancy Pelosi, D-Calif., as the Democratic leader in the House of Representatives, even as he has emerged as a favorite among his peers to become the first African American to hold that position and possibly Speaker of the House if the Democrats win control of the chamber. He also voiced his continued support of Pelosi.
In the same interview, Clyburn, 78, stressed that his priority at the moment is to work with other Democrats to ensure wins for them for the midterm elections on Nov. 6 by zeroing in on 37 districts across the country that he and Congressional Black Caucus Chair Cedric Richmond believe can be won this year, which would wrest control of the House from Republicans.
Clyburn added that prioritizing the black vote, not relying on a solely anti-Trump platform, and advertising in the Black Press will be keys for Democrats to clinch their dominance in the House this November.