Disarm Portland State Campus Police Now
More guns multiply the risks
Lew Church | 8/22/2018, 5 a.m.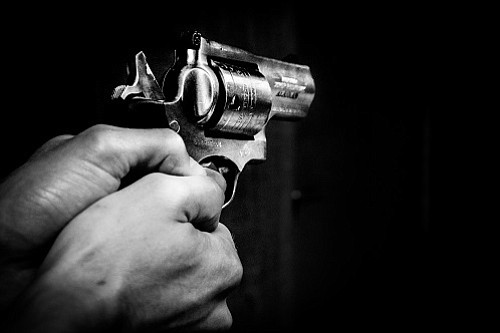 Jason Washington: Say his name! At Portland State this summer, Jason Washington, an African-American grandfather and a 20-year-veteran worker at the U.S. Post Office, was shot and killed by two campus cops outside the Cheerful Tortoise bar. As I said on my KBOO radio program, this shooting makes me ashamed to have gotten my Masters degree (M.Ed., 2005) from what activist students now call "Police State University."
There will be a community forum on police accountability and interactions between the houseless and immigrant communities' vis-à-vis local police on Saturday, Aug. 25 at 4 p.m. at the PSU Chit Chat Café, 1907 S.W. Sixth on the Green Max next to Hot Lips Pizza. The speakers and invited speakers include Luis Balderas-Villagrana, president of the Associated Students of PSU and a Dreamer; city council candidates JoAnn Hardesty and Loretta Smith; police officials Chief Danielle Outlaw and union president Daryl Turner; Kayse Jama of Unite Oregon; representatives from houseless groups Sisters of the Road and Street Roots; and Jason Washington family members. The forum is structured to be a polite conversation, with Q and A, focused on compassionate solutions.
Since the death of Jason Washington at PSU, Don't Shoot Portland and Black Lives Matter, along with PSU Student Union, have advocated for disarming the campus police force. Students advocated against arming the campus cops three years ago, but were overruled by then-university president Wim Wievel. After the shooting, students activists protesting the misuse of force at school joined city council candidates JoAnn Hardesty and Loretta Smith in a protest at downtown Portland's Pioneer Square.
Jason was the one person trying to defuse a fight situation outside the Cheerful Tortoise when he was killed, yet the decision was made to shoot the peacekeeper in that situation. In her excellent commentary (Arming Teachers Makes Matters Worse, Portland Observer, Aug. 1 issue) Basura Ismail, a conflict resolution student and mother of two, eloquently pleads for sensible gun laws, including less guns at our schools. As we know, the Trump-NRA forces have argued -- incorrectly -- that putting more guns at schools will "improve" an already unsafe situation.
The shooting this summer at Portland State also demonstrates why it is a mistake to even put guns into the hands of campus safety personnel. As a grad student in the PSU School of Education and someone who has been on the inside teaching history at two schools with hundreds of students each day, Benson and Franklin, more guns and more bullets only serve to multiply the likelihood of injury or death.
One of the reasons we held a pro gun control conference at PSU, funded by a grant I wrote from the McKenzie River Gathering Foundation, was to broaden and deepen the efforts started by national gun safety groups like Sandy Hook Promise and Everytown for Gun Safety. I also was able to go with Portland Moms Demand Action (six moms plus me) to Earl Blumenauer's office to present thousands of postcards for gun safety and speak with the congressman for a half hour in his office.