School Drivers Approve Contract
8/22/2018, 10:36 a.m.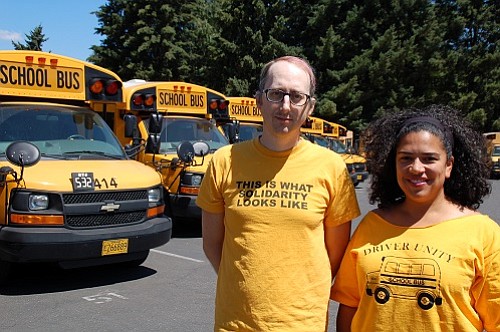 After over a year of negotiation, Special Education school bus drivers at Portland Public Schools last week voted 71 to 9 to approve a new collective bargaining agreement with the district, just hours before a school board meeting where they would testify that evening.
The new starting wages would be $18.50, an amount landed on by both parties at mediation two weeks ago and an increase from the district's previous last final offer by 54 cents. The school board still must vote to approve the new contract, and if they do, the contract will remain in effect for one year, according to Almagamated Transit Union Local 757.
Driver and union representative Beth Blumklotz told the Portland Observer they didn't get every concession they asked for, but she thought "this was the best we could do without going on strike."
"We have a lot of success to be proud of," Blumklotz said, describing the movement from an initial offer of no increase from their $16.25 starting wage and a two year wage freeze as "an accomplishment."
Drivers and allies rallied last week in front of district offices to celebrate their milestone, which was the culmination of a tense back and forth between the school board and drivers, who held many demonstrations and testimonials throughout the year.