TriMet Rolls Out Expansion
8/22/2018, 10:53 a.m.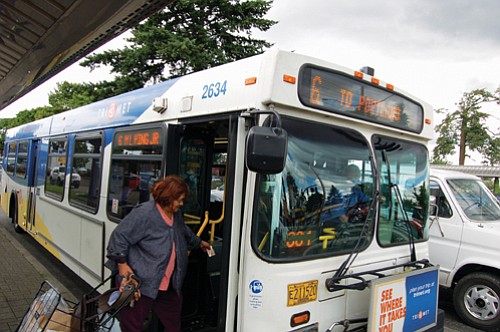 A new all-night bus to Portland International Airport for when the MAX Red Line is not running, and new 24-hour service for the first time on two other bus routes are part of the largest ever bus expansion ever coming to TriMet.
According to the transit agency, it means that starting on Sept. 13 when the changes take effect, bus lines overall will have more frequent service. For the Line 20 Burnside/Stark and Line 57 TV Highway/ Forest Grove routes, buses will run 24 hours a day, the first time any bus route in Portland has operated continuously in 30 years.
Line 4 Division/Fessenden, one of the longest and most popular routes, will be split into two to keep buses on time, with one route serving downtown to St. Johns via north Portland and the other downtown, east to Gresham.
Other bus route improvements include expanded hours of operation on Lines 61, 64, 66 and 68 — all of which serve OHSU and Marquam Hill; 20 additional weekday buses for Line 81-Kane Rd/257th; extending Line 24-Fremont across the Fremont Bridge; increasing weekday services with buses arriving every 15 minutes most of the day for Line 73-122nd Ave; and adding more service between Tualatin and Portland on the Line 96-Tualitin/I-5 route.