Smith: 'I can win this'
Commissioner refocuses her campaign for City Council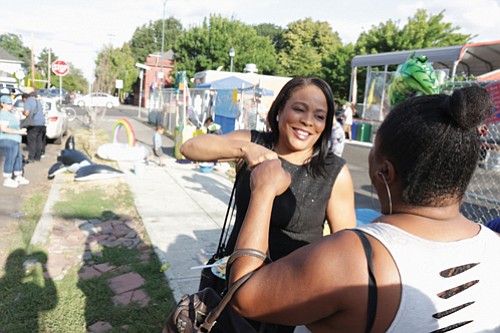 Multnomah County Commissioner Loretta Smith has refocused her campaign for Portland City Council and predicts she will make up ground from a second place finish in the primary to repeat history and win the general election this fall.
Smith's strategy to close a 25-point deficit comes with an onslaught of face-to-face interactions with voters, stepped up canvassing, attending events and continuing the community forums she has held all summer, called "Loretta Listens," in neighborhoods all over the city.
Looking at her own election history for inspiration, Smith recalls the November General Election of 2010, a year when she first ran for public office and overcame an 18 point disparity in the May primary to win her first term as county commissioner.
This time, her opponent is former State Representative and former NAACP President Jo Ann Hardesty who finished first last May with 46 percent of the vote, but short of the needed 50 percent plus one majority to win outright. Smith came in with 21 percent of the vote. Now they face off in a Nov. 6 contest that will elect a black female on the City Council for the first time ever. Current City Commissioner Dan Saltzman did not run for re-election.
Smith, 53, told the Portland Observer her campaign this summer has been in stark contrast to her efforts during the primary when she faced a heavy schedule before the county commission in the middle of budget season and was busy carrying out the responsibilities of her office.
She described how much more she is now engaging with voters and looks forward to the general election when as many as twice the number of people can be expected to cast ballots as compared to primary elections.
"It's much more grass roots. It's totally different," Smith said. "I get a shot at winning this."
Top issues Smith hopes to champion at City Hall are affordable housing and homelessness, addressing a lack of representation in often neglected East Portland communities, and workforce development.
The distress from not having a home is personal for Smith. She understands the plight that people living on the street often face by recalling her own life decades ago when she was briefly homeless, couch-surfing as a single mom.
"I'm really sensitive to that," she said, remembering some hardships from her own past like when a kind-hearted gas attended gave her $5 of fuel because she asked for a mere 86 cents of gasoline, all she could afford at the time.
Smith said personal experiences ground the actions she has taken as an elected official to support more public dollars dedicated to homeless services, expanding permanent housing and more shelter beds.
"I know that at any point in your life you can be in a vulnerable situation. You know, I had a college degree. So that doesn't shield you from having some of these challenges," she said. "We need to rework our priorities and put housing for women and families first and to make sure that they're not on the street."