McCoy Academy's New Home
PCC partnership brings new opportunities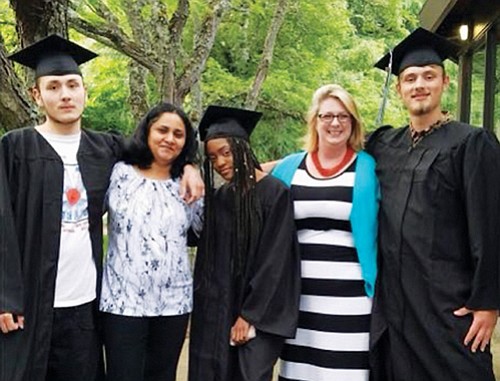 One year after a change in location, McCoy Academy is continuing to thrive.
The alternative high school for underserved and disenfranchised youth, originally located on Northeast Martin Luther King Jr. Boulevard, lost their lease to a building that was sold to make way for condominiums in 2017. After nearly being forced to shut down, they fortunately found a new location with longtime partner Portland Community College on the PCC Cascade Camus in north Portland. McCoy Academy's founder and executive director, Rebecca Black, was thrilled to be able to continue to serve students at the new location.
The academy is part of a juvenile justice reentry program at PCC, which is made possible by an Opening Doors grant. McCoy students can also enroll in classes for college credit and have access to resources that are available to PCC students. These include public transportation, technology and computer labs, tutoring, counseling, the health center, and more. As the year evolved, Black was happy to learn of these increased resources her students could take advantage of.
"We were so excited about the all the new enhanced opportunities that we didn't have the capacity to provide to our students before," she said.

All of these resources increase the chance of success for students after they graduate, and their likelihood to continue their education. Katie Carpenter, assistant executive director of Oregon Outreach, which oversees McCoy Academy, said that there are also plans to create a college transition class.
Black and Carpenter are eager to continue to serve students and want the community to know that the McCoy program is still around and better than ever.
"When we left the core neighborhood that we were in on MLK Boulevard, it made it seem like we were no longer there. We want people to know that we are alive and sticking!" Black said.
There were three seniors enrolled in the program for the 2017-18 school year and all of them graduated this June.
Carpenter and Black are most proud of the fact that McCoy Academy is a place where authenticity is valued and that students receive a full education. The goal is to educate the whole child – socially, emotionally, and academically, a school program that can create a sense of community where kids can be safe and not vulnerable.

Open enrollment is happening now through Sept. 10. There is no tuition for the high school program at PCC. McCoy Academy remains the only free private high school in Portland. There is also a Back to School Open House taking place on Thursday, Sept. 20 from 3 p.m. to 7 p.m. at the Oregon Outreach Administrative Office, located at 2215 N. Lombard St.
McCoy Academy is named after the late Gladys McCoy, the former Multnomah County chairperson, school board member, and first African American elected to public office in Oregon.