Renovated Tubman Opens
School bell rings for two new middle schools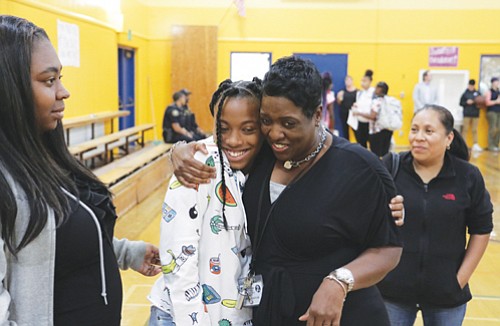 The first day of the new school year Monday saw the opening of two new middle schools serving diverse populations in north and northeast Portland—Harriet Tubman and Roseway Heights—serving 1,000 of the district's 50,000 students from historically underserved communities. Tubman's opening as a fully refurbished middle school was much celebrated by many members of the black community and school leaders. Prior to this week, the school had been dormant for half a decade.
To promote the district's renewed citywide effort to bring equal access and quality academic programs to its students, Superintendent Guadalupe Guerrero, who is entering his second year at the helm of Portland Public Schools, toured four schools Monday morning.
His visits culminated at Tubman, where he was joined by Mayor Ted Wheeler, School Board Chair Rita Moore, and Portland's teacher union president Suzanne Cohen. Guerrero also visited the new Roseway Heights Middle School in northeast Portland, Llewellyn Elementary School in southeast Portland and Ockley Green Middle School in north Portland.
Before African American advocates fought to first get Tubman opened as Portland's only middle school in the black community back in 1983, most black kids in north and northeast Portland were bused to other middle schools outside their community.
Though the school has faced delays in its opening due to suspected air quality issues, it now boasts a new air ventilation system meant to thwart pollutants from the nearby I-5 freeway, which was recently tested and found to be unsafe.