Trusted, Caring Adults Needed
Mentor a child this school year
8/29/2018, 11 a.m.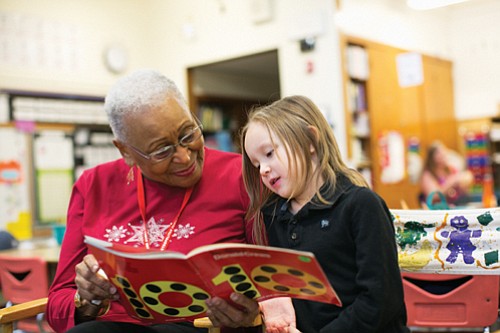 Are you age 50 or over, and want to help children succeed? A little bit of extra support from a trusted, caring adult can help many children thrive academically. This is where you can come in as a mentor. AARP Experience Corps is an intergenerational program that focuses on helping children become great readers before finishing third grade. Working one-on-one and in small groups with young children in elementary schools, mentors provide the needed support and attention for students to succeed.
Metropolitan Family Service, a non-profit serving the Portland area for over 67 years helping move people beyond limitations of povery, inequity and social isolation, is actively recruiting volunteers for the program. AARP Experience Corps provides opportunities for adults 50 and over to mentor and tutor children in select eastside, north Portland and Gresham public schools.
Volunteer mentors commit to four or more hours per week throughout the school year. Those able to commit eight hours or more may receive a monthly stipend. No formal experience is needed, just the desire to help children succeed. Training and ongoing support are provided.
Volunteer today for the 2018-19 school year by calling Maruska Lynch at 503-290-9427, or email: volunteer@mfs.email. For more info visit metfamily.org