The Barber of Seville
Magic of opera made for kids
12/4/2018, 2:02 p.m.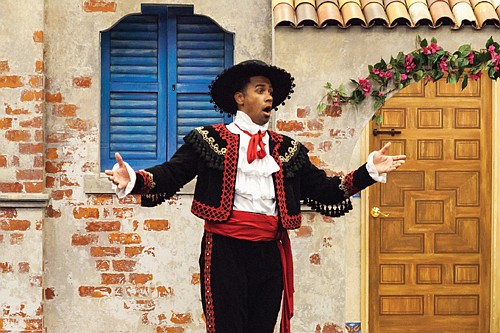 The adaptation of a classic opera, a 50-minute English and Spanish-language version of Rossini's 'The Barber of Seville,' that has been touring local schools and community centers across the state, will take the stage for two public performances in Portland this month.
The production is from Portland Opera to Go, a traveling program of Portland Opera that brings the magic of a live performance of opera to thousands of audience members, many for the first time.
In this adaptation of The Barber of Seville, targeted for students in 3rd through 12th grades, Rosina is new in town. Fresh from Spain, she lives with her controlling, suspicious Uncle Bartolo, who is planning to marry her off to one of his rich, elderly friends. But Rosina is in love with Almaviva. She knows he likes her too, but they have a problem – she speaks only Spanish, and he speaks only English. They enlist the help of the brilliant, bilingual Figaro, and hilarious antics ensue.
"We believe that opera is an art form that can have a visceral appeal to everyone," said Alexis Hamilton, Portland Opera's Manager of Education and Outreach. "If we can share opera with children and they have a good time with it, they bring that memory into adulthood and know that opera is for them too—no matter who they are or where they come from."
"The Barber of Seville" plays at the Hampton Opera Center, 211 S.E. Caruthers St., at 1 p.m. on Saturday, Dec. 8 and 1 p.m. Saturday, Dec. 15. Admission is $10 for adults, $5 for children or $20 for a group of four. For tickets, visit portlandopera.org.