Shared Stewardship
Social justice advocates introduce new space for organizing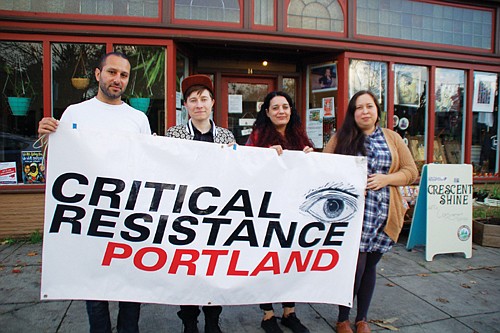 A new public gathering space for multiple organizations to share and one geared toward social justice issues and support for communities of color is giving various non-profit groups a better way to consolidate their limited resources and make a bigger impact.
The Dismantle, Change, Build Center (DCBC) is the newest designation for the old storefront at 14 N.E. Killingsworth St.
The stewards behind the center are attempting to operate it within the spirit of how the space has historically been used: To provide a culturally diverse and enriching gathering and organizing space for community members in the tradition of the former Albina Arts Center, and later, In Other Words feminist bookstore, two organizations the space formally housed.
The importance of holding a shared stewardship of a community space is seen as both a logistical one in terms of cost sharing and for the ability to build on the number of voices who advocate and envision a better future for their stakeholders in the community, according to Anna Swanson, one of the organizers of the center, a volunteer with the group Critical Resistance Portland.
"We're taking the opportunity to be the future that we are working to create by holding this space, holding it collectively, living that sort of shared vision of sharing resources, not treating anyone as disposable, having a space that's really oriented around that," Swanson told the Portland Observer.
Critical Resistance Portland is a chapter of an international movement dedicated to the abolition of what it calls the "Prison Industrial Complex" through activism work. Their efforts are often geared toward advocating for the reallocation of resources from things like prisons and police to services for things that can fulfill the basic needs of community members, like affordable housing, health care, mental health care, and education.
Mohamed Shehk, visiting communications director for the national Critical Resistance organization in Oakland, California, told the Portland Observer that advocates for the group see most of the existing polices around policing and law enforcement, for example, as ineffective tools against crime that fail to solve bigger problems.
"The Prison Industrial Complex is a term that we use to describe the inner-locking systems of policing, imprisonment, surveillance, and the intersection of interests between government and industry that use those systems as solutions to problems that are actually political, social, economic in nature," Shehk said.
United States' disproportionate housing of the world's prison population, and in particular of communities of color within the U.S., has been a contentious political issue. Civil rights leaders in Portland and nationally have called for changing laws for better fairness, drawing support from liberals like Vermont Senator Bernie Sanders to former President Barack Obama, who commuted or pardoned 1,927 people for federal crimes, mostly for drug charges, by his last term in office.
In 2013, the United States represented about 4.4 percent of the world's population, but housed around 22 percent of the world's prisoners, according to World Prison Population List from International Centre for Prison Studies. What's more, African Americans and Hispanics made up 56 percent of all incarcerated people in 2015, though they comprised only 32 percent of the U.S. population, according to National Association for the Advancement of Color People's website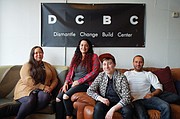 Cory Lira, chapter member of Critical Resistance Portland, said she found the organization at a time when she needed a new political home after seeing first-hand the devastating effects of the disproportionate impact that policing and imprisonment often has on communities of color.
Having worked on the front lines of migrant justice work and education, Lira said she began seeing the ways in which young people are policed from an early age and pushed into prison.
"Once I found CR, I was able to see the interconnected ways that government and institutions rely on the prison industrial complex to control and cage and kill us," she said.
The Dismantle, Change, Build Center has become a home base for a myriad of other organizations including the anti-police violence group Don't Shoot Portland; an empowerment group for young girls of color, called Brown Girls Rise; and an outdoor program for youth, called Urban Nature Partners PDX.
The center also houses Portland Books to Prisoners, a non-profit that sends literature to those who are incarcerated, and Crescent Shine, a multi-vendor artist and consignment shop.
Donations, which can be made through Critical Resistance, help to keep the non-profit community based center afloat, organizers said.
This month Critical Resistance will host a postcard and holiday party at the Dismantle, Change, Build Center to send mail to those that are in prisons and jails. The event, designed to remind those who are incarcerated that they're not alone and there are those fighting for them on the outside, will be from 6pm to 9pm on Monday, December 17.