Sugar Shack Comes Down
Blight to give way to affordable housing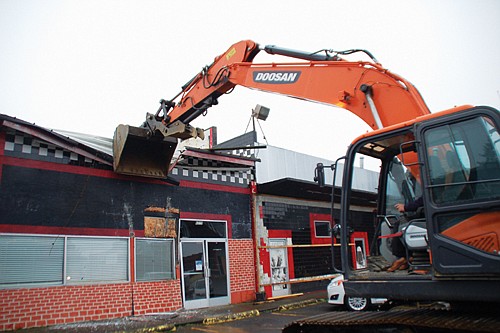 The destruction of a much-maligned former strip club, the Sugar Shack, in the Cully Neighborhood of northeast Portland, kicked off Monday with area residents and community leaders, including Mayor Ted Wheeler, in celebration of a soon-to-be affordable housing development to be built in its place.
The run down building at Northeast Cully and Killingsworth Street was a source of blight in the neighborhood, harboring prostitution and other criminal activity for the past 20 years.
"We're really excited to finally bring down the former Sugar Shack," said Rose Ojeda, the real estate development director for Hacienda who had been instrumental in the planning of the site's redevelopment for the past year and a half.
The new 140-unit housing complex, "Las Adelitas," will replace the old retail building. In addition to housing, it will include a large community space and a central plaza to welcome families and individuals, amenities decided on through community input.
"We want to continue to have a place to convene, to organize, to build political power," said Cully resident Annette Pronk, who had a leading role in the early stages of the Sugar Shack deconstruction and re-envisioning process years prior.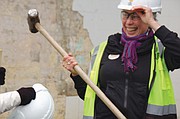 In addition to Hacienda, located just across the street, Habitat for Humanity, The Native American Youth and Family Center and Verde also played vital roles in developing the project. The City's urban development department, Prosper Portland, provided a portion of its funding.
Hacienda formally purchased the site in 2017, after it had been transformed in 2015 to the Living Cully Plaza by community coalition Living Cully (of which Hacienda is a member). Living Cully had purchased the site from the former strip club owners, who were both sent to prison in 2017 for prostitution and federal tax evasion.
"Las Adelitas" is named after a Mexican revolutionary and former nurse, Adela Velarde.
The name pays tribute the women who were physically exploited and abused in the Sugar Shack's two-decade-long prostitution ring, which at one point brought the highest calls for police service of any site in the Cully neighborhood, Hacienda Chief Executive Officer Ernesto Fonseca said in a letter to the community.