Fixing Our Streets
12/12/2018, 10:48 a.m.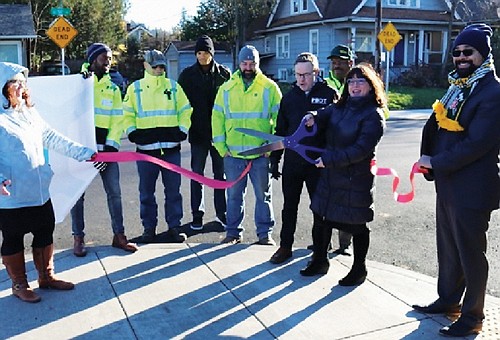 Portland city officials are celebrating the newly-completed Southeast 50th Avenue Paving Project, part of a Fixing Our Streets initiative paid for by a local gas tax approved by Portland voters in May 2016 and a heavy vehicle use tax.
Crews repaved the street from Division to Hawthorne to prevent further pavement deterioration. The work also updated all street corners that did not meet ADA standards to improve overall street accessibility.
Over the course of the paving work, PBOT removed 109-year-old trolley tracks that were underneath the southbound section of the roadway. The trolley rails were built on SE 50th Ave in 1909, but when the trolleys were decommissioned of the rails were paved over to make roads for vehicle use.
For years, residents of the area, and all other Portlanders who utilize this street, have witnessed hazardous potholes, with a few areas with rail exposure potentially causing bike crashes, slippery conditions for pedestrians and tire damage to vehicles.