Achieving Success
KairosPDX school organization earns high praise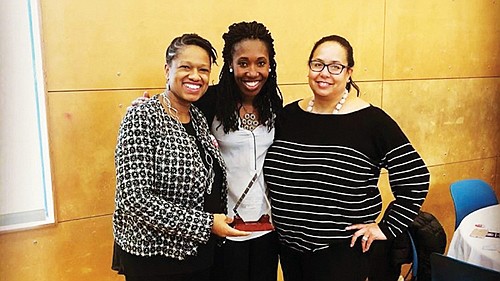 The organization behind a majority black charter school that is proving successful by using evidence-based teaching methods to close the achievement gap, and one that has been waged in a battle to keep its lease with Portland Public Schools, has been named a city leader for promoting civil rights and ending discrimination.
KairosPDX, operating a K-5 elementary out of the former Humboldt school at 4915 N. Gantenbein Ave., was named an outstanding community organization for 2018 by Portland's Human Rights Commission in the city's Office of Equity and Human Rights. The award is named after Emily G. Gottfried, a former Human Rights Commissioner and community leader who died in 2013.
Kairos PDX co-founder and executive director Kali Thorne Ladd called the recognition that the school is receiving "humbling" and took the opportunity to thank the community at large for the award.
"This work on behalf of children has been a phenomenal journey thus far and we are so grateful for all the people who have come along side us," Thorne Ladd said.
Black students in particular are a focus at KairosPDX. The school mission is to make a dent against the chronic low performance of African Americans and other disadvantaged students at schools across the Portland School District.
With students at KairosPDX now outperforming black kids at other schools in the district, three fold in some instances, the results speak for itself. With just a few years into the program, however, a full picture of the results are still to come.
"While this is certainly the bedrock of what Kairos is about, we recognize we're still early on our journey making such a recognition humbling," Thorne Ladd said.
Hiring high quality educators and holding year-round classes, both proven methods to raise achievement levels, are practices done at KairosPDX as well as using culturally specific materials for learning.
Earlier this year after some controversy, the Portland School Board raised the rent KairosPDX pays to the district by 30 percent while also extending the school's lease for a single year. The contract saved the school from becoming displaced for the time being, but was criticized by advocates of the school for coming up short of the multi-year contract for long-term stability that KairosPDX sought.
The Human Rights Commission is focused on building peace and ending discrimination, also a life-focus for the award's namesake, Emily Gottfried.