Holiday Food Boxes Going Out
Donations represent best of the season
12/18/2018, 4:41 p.m.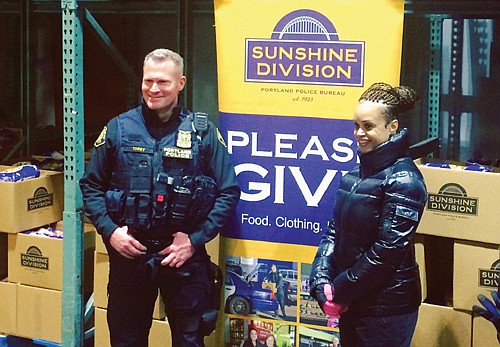 The Portland Police Bureau Sunshine Division has packed 3,800 holiday food boxes to help local families who struggle economically. Already accounted for, the food will be home delivered on Saturday in time for Christmas thanks to the help of hundreds of volunteers and two Portland Police Bureau precincts.
The boxes are supported by food and funding donations through Albertsons and Safeway stores, the Safeway Foundation, Wells Fargo Bank, the OCF Eddie Wilson Fund, Botsford & Sons Produce, Ventura Foods, Bob's Red Mill and Franz Bakery.
"The holiday food box program is not only a Sunshine Division tradition but a Portland tradition that has fed hundreds of thousands of local families over nine decades. It represents the best of the spirit of the holiday season and continues to grow and improve thanks to the support of the community," said Officer Matt Tobey, who oversees the Sunshine Division.