Boogie Cat's New Year's Eve Ball
Big Blues party to usher in 2019
12/19/2018, 3:25 p.m.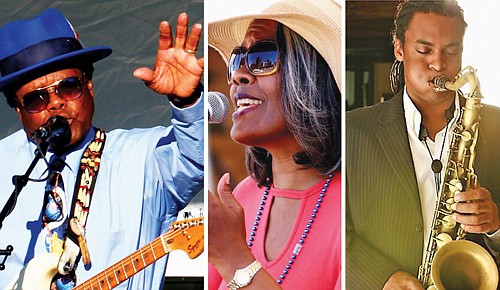 Norman Sylvester, the "Boogie Cat of the Northwest" is throwing a big Blues party to bring in 2019 with style. You're invited to join the fun in semi-formal black and white or whatever feels right!
The concert with dinner reservations will be held New Year's Eve, Monday, Dec. 31 from 7 p.m. to 1 a.m. at the Eagles Lodge Grand Ballroom, 7611 N. Exeter and Lombard Street. For tickets, visit tickettomato.com.
Opening up the musical entertainment will be Mary Flower, an internationally known and award-winning guitarist who has made Portland her home since 2004. Flower embodies a luscious and lusty mix of rootsy, acoustic-blues guitar and vocal styles.
Lenanne Miller, a University of Southern California Masters of Fine Arts graduate and Norman's first born, will follow with a phenomenal Jazz set showing her strong vocal style.
The Norman Sylvester Review will bring in the New Year featuring Devin Philips, a New Orleans protégé who has performed and recorded with top jazz artists such as Wynton Marsalis, Eddie Palmieri, the Headhunters, the New Orleans Jazz Orchestra, musician Lenny Kravitz and Los Hombres Caliente.
Born in Louisiana, Sylvester has been part of Portland's music scene for decades. His earliest musical influence came from hearing the Spiritual Five, his father's gospel group, which played on the radio and in church in Louisiana. Other blues influences he would hear on the back streets and from the Juke boxes around town were greats like BB King, Johnny Taylor and T Bone Walker.
Norman's first professional gig was in 1963 in high school with his friend, the late "King of Seattle Blues" Isaac Scott. The Norman Sylvester band played the first Waterfront Blues Festival in 1987 and after that performance were invited to open for BB King at the Arlene Schnitzer Hall. They had the honor of opening for BB once again as well as James Cotton, Mavis Staples, Tower of Power, the Five Blind Boys and many others.