Shaken by Break-ins
Coffee House responds; video shows suspect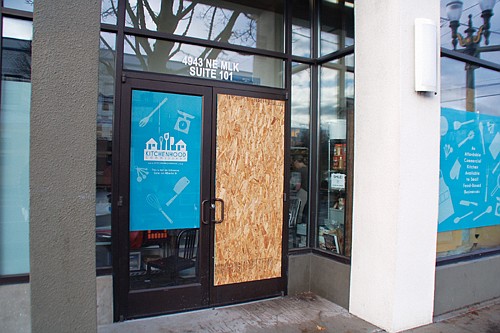 A northeast Portland coffee shop is on guard after the fourth break-in in less than a month and surveillance video may lead to the person responsible.
Arrow Coffeehouse, on the corner of Northeast Martin Luther King Jr. Boulevard and Alberta Street posted to its Facebook page video of a masked African-American man breaking through a glass door of the business Saturday morning.
Though there was no money in the shop and the burglar didn't take anything in this latest intrusion, the series of break-ins has rattled the owner, a 27-year old Latina mom named Erica Escalante, who has been helming the business for the last six years.

"It is extremely unnerving and emotionally difficult to be woken up in the night to this kind of attack for the fourth time. I am 8 months pregnant with a family at home, and this has taken a toll [...] It's hard to sleep at night and the possibility of this person returning again is scary," Escalante said in a Facebook post Monday. She added that she hoped the suspected burglar "can receive help."
The latest break-in caused $1,400 in damages, on top of the already thousands of dollars that resulted from the previous intrusions, Escalante told KPTV.
She urged community members to call Portland Police if anyone recognized the man, who she said was also captured on camera, without a face covering, a few weeks ago. Both times the man wore a puffy black jacket.
Though Escalante said police believe the man to be a local to the neighborhood, she stated the incident is not typical of the community.
"I absolutely do not believe that these acts are a reflection on our neighborhood and I really condemn that notion. We will be and have always been a neighborhood place and we really love our people surrounding us here."