A Luminous Experience
ZooLights holiday show lasts through Jan. 5
12/26/2018, 6 a.m.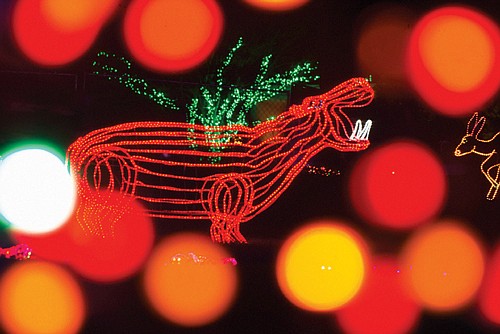 Zoolights, the Oregon Zoo's walk-through winter wonderland of more than 1.6 million colored lights is more popular than ever and this year is accommodating the nightly crowds past the New Year's holiday to Sunday, Jan. 5.
Over the past five years, more than a million zoo visitors have strolled through the forests of lighted trees, been dazzled by life-size illuminated animal silhouettes and ridden the light-bedecked zoo trains.
Visitors who ride MAX to ZooLights can get a $5 discount with proof of ridership, saving the hassle of finding a parking spot when lots become full.
You can also buy your admission tickets in advance and bypass the tickets line at the front gate. Reservations for zoo train rides also can be made in advance so people can stroll around the grounds and enjoy the lights until their appointed train time. Visit oregonzoo.org/zoolights for more information.