Kicked-Out Hotel Guest Considers Next Steps
Man who had cops called on him hires lawyer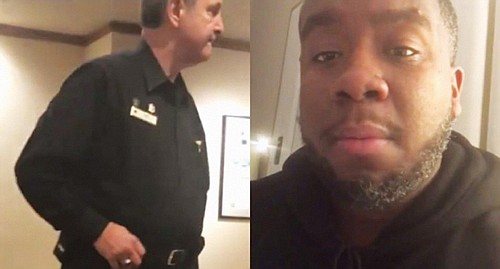 After several days of uproar of an alleged racial profiling incident that was shared across the country in Intragram posts and on news networks, the Portland hotel who called police on an African American guest who was making a phone call in its lobby, has fired the two workers involved in the incident, but it may not be enough for the victim, who is now considering a lawsuit.
Jermaine Massey of Kent, Wash. said he was returning from a Travis Scott concert at the Moda Center around 11 p.m. on Dec. 22 and had made the phone call from a quiet part of the DoubleTree/Hilton hotel lobby across from Lloyd Center when the security guard, identified as Earl Meyers, a white man, began questioning his presence.
After Massey explained he was a guest at the hotel and even showed Meyers his hotel key, the security guard continued interrogating him, calling him a "security threat," he said. Police were called and he was escorted to his room to pick up his belongings and then kicked out.
Massey has hired a Portland law firm, Kafoury & McDougal, who has condemned the hotels actions saying "it presents all the ugliest elements of racial profiling in modern America: the arrogance of power, the disrespect of the dignity of black Americans, and the hollowness of corporate response to casual corporate racism."
Though DoubleTree Portland announced the firing of Meyers and the manager, along with an apology for Massey's "mistreatment," in a series of tweets Saturday, the law firm said they're unsatisfied with the unanswered questions regarding the hotel policies that led to the incident taking place and plans to sue.
"We're going to find out what the policies are," Gregory Kafoury told the Portland Observer on Monday. "I suspect we're going to find out that this sort of thing happens at other Hilton Hotels. They're not going to get away with it," he added.
On Twitter, Doubletree Portland—an independently operated franchise holder of Hilton Worldwide Holdings-- said they plan to "work with diversity experts to ensure this never happens again."