Dynamic Portland Pastor Dies
Rev. W. G. Hardy Jr. was humble and inspiring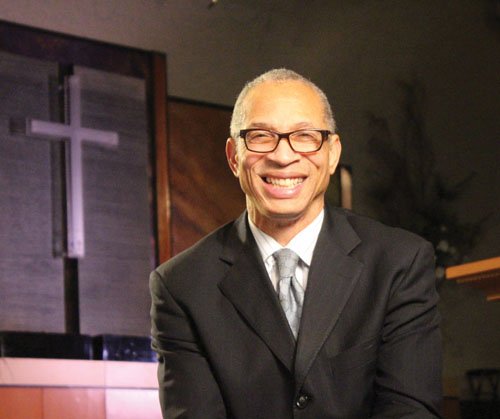 Rev. W. G. Hardy Jr., a humble spiritual leader from Portland's African American community who inspired so many others with his dynamic sermons and lifelong service to his church and community, succumbed to a three year battle with kidney cancer on Friday.
Hardy, 60, was the senior pastor of the Highland Christian Center in northeast Portland for the past 22 years, a third generation preacher from a family of church pastors that included his late father and grandfather.
A thoughtful teacher and a spiritual advisor to countless members of the community, he helped grow a small Highland United Church of Christ congregation on Northeast Ninth and Going Street into one of the city's largest churches serving a diverse population at 7600 N.E. Glisan St.
Family and church members remember him as community advocate with a whip-crack wit who challenged and inspired church goers with fiery, athletic sermons—sometimes doing splits and diving off the stage.
In February 2015, Hardy announced to his congregation that, despite having a kidney removed, the aggressive cancer had spread throughout his body giving him limited time left and in continual pain. The announcement sent shockwaves throughout the community.
The Portland City Council shortly later declared a Day of Recognition in honor of Hardy and his community service, recognizing his efforts to keep young men out of gangs, feed and support those who are homeless and engage with people who are mentally ill, encouraging conversations in the faith community about mental illness.
"I'd rather live out Christianity than preach Christianity," Hardy said at the time.
Former Sen. Avel Gordly described him as "a master teacher, teaching us how to live and how to die."
Hardy was also a friend and community partner of Concordia University in northeast Portland for the past dozen years as well as an annual speaker at the school's Johnson Family Memorial Scholarship Banquet each fall.
"Pastor Hardy touched so many lives, including the lives of students, faculty, and staff at Concordia University," President Charles Schlimpert wrote in a statement Friday.
The post-secondary institution honored Hardy with its 2015 Christi Cruz Award for having made significant contributions to the church and community.
Hardy transformed Highland into a $6 million campus with a loyal following. The church initiated programs to feed and shelter the homeless, transition former prisoners into a normal life within the community, and partnered with organizations like Albina Head Start, Multnomah County, the state of Oregon's REACH program, and the Highland African American Youth Coalition to fulfill the church's mission of servicing the community
A home-going service to honor Hardy will be held Friday, Feb. 9 at 11 a.m. at the Highland Christian Center, 7600 N.E. Glisan St. The service also will be live-streamed on the Internet at hcclive.com. A committal service will be held Monday, Feb. 12 at 12:30 p.m. at Willamette National Cemetery, 11800 S.E. Mt. Scott Blvd.
In lieu of flowers, donations may be made to the Wilbert G. Hardy Jr. Youth Leadership Academy, 7600 N.E. Glisan St., Portland OR 97213.