The Greatest Honor
FBI agent looks back on exciting career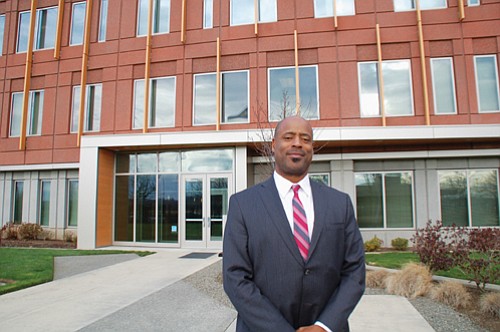 Stand offs with ant-government militias, tracking down domestic terrorists, and thwarting bank robberies might sound like the perfect recipe for a popcorn thriller, but for retired FBI special agent Pete Collier, it was just another day at the office.
"It's been the greatest honor of my life to work within these walls and to work on this mission," Collier, told the Portland Observer.
February marks Collier's first month of retirement from the bureau after 27 years with them. In that time, spent in San Francisco then later Portland, he's worked on a number of high profile cases that have captured the nation's attention as much as it has federal law enforcement's.
Now, at 55, just two years before the bureau's mandatory retirement age kicks in, Collier is trading in his badge and gun for a hunting rifle and fishing rod.
Collier was born in Massachusettes, but grew up all over the world, bouncing from place to place as a U.S. Air Force brat. Germany, Florida, and Guam were just some of places he spent time in. It was hard for Collier to make lasting friendships moving around so much, but before long he finally settled down at 14 in Las Vegas, Nev., where his dad retired. He paid his way through school by working at a dairy farm by day and attending classes, part time, at night at University of Nevada Las Vegas. He graduated in the late 80s with an accounting degree.
"[It was] right at the time that the savings and loan crisis erupted, primarily in Texas. And the bureau was hungry for accountants. And basically, the recruiter tackled me when he saw me," Collier said.
Collier enlisted at age 27 and soon began the first part of his law enforcement career in San Francisco.
Collier's first criminal case was on the bank robbery squad. The robber was so nervous, Collier explained between laughs, that he had left his wallet, from which he pulled out the written note that instructed the teller it was a robbery, on the counter before making a get-away.
"That was the first and easiest case I ever worked," Collier said.
Collier went on to work more challenging cases, working with SWAT and chasing fugitives, including Ted Kacynski, the Unabomber.
A domestic terrorist, Kaczynski made hand crafted wooden pipe bomb explosives sent through the post office that killed 3 people between 1978 and 1995. He sent bombs to universities, airliners, and private homes. After being on the FBI's watch list since the 70s, Kaczynski was still at large in the 90s when Collier was assigned his case.
"He blew up somebody in Sacramento. And he placed a bomb in a post office in San Francisco, another one had exploded," Collier said. "We got court order surveillance on a lot of the post offices in San Francisco, just trying to catch this guy. We never got him as a result of that."
When Kaczynski got his manifesto published by the New York Times and the Washington Post in 1995, his brother recognized his writing style and dimed him out. Collier went to Kaczynski's Montana cabin, living a primitive lifestyle without electricity or running water, as part of the search contingent.