Family Seeks Justice
Family Seeks Justice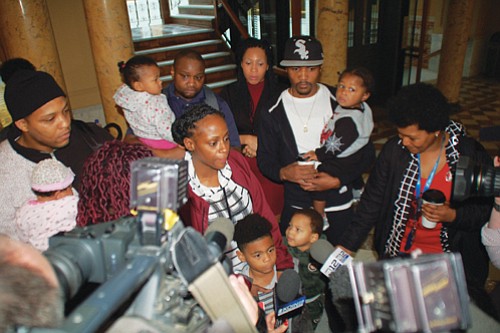 The family of Quanice Hayes wanted to deliver their intent to sue the city to Mayor Ted Wheeler directly, but had to settle for the mayor's Chief of Staff Maurice Henderson.
Surrounded by friends and family, Venus Hayes and her brother Steven Hayes hand-delivered the lawsuit notice to City Hall on Thursday, demanding accountability for what they believe was a wrongful death of their 17-year-old son and nephew.
The mayor had a prior commitment at a previously scheduled event, according to his representative, but it did not sit well with the family. Witnesses reported seeing Wheeler exit a back door of City Hall just a half hour before the family and supporters arrived.
Terrence Hayes, a cousin of Venus Hayes, criticized the mayor for his lack of a presence, "I think it's offensive… our family put a lot of trust in Ted. In the beginning, we were hopeful, he was genuine and not 'Ted the politician,'" he told the Portland Observer.
Quanice Hayes was unarmed when he was shot while on the ground following a police chase after a reported armed robbery near Northeast 82nd Avenue one year ago. His family says he was on his knees and complying with officer instructions when he was shot, but the officer said he was reaching for his waistband. A replica toy gun was found nearby.
A grand jury ruled in March that the shooting was justified, and the police officer shot Hayes, Andrew Hearst was cleared of charges. It marked the second time of him using justified lethal force during his career.