Inspired to Keep Others Out of Gangs
She knows Portland's history because she lived it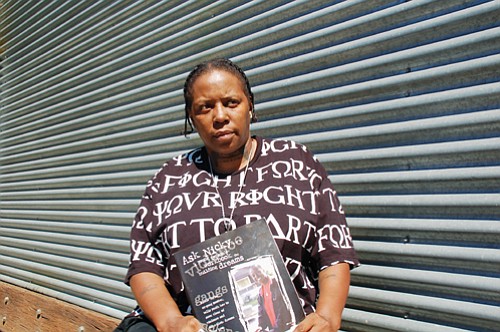 Nicky Taylor's personal story of growing up with gangs in Portland and then escaping from gangs, a story inextricably tied to the city's history of murder and mayhem on the streets is now a half hour long documentary, "The Nicole Taylor Story, " released last month on Amazon Prime.
Taylor said her mother, who died from cancer three years ago, inspired her to continue telling the next generation about the perils of gangs, a mission she helmed since 1999 when she published a book for young adults about her experiences and co-authored by educator Francs Mejia Caldwell.
Now a billboard advertises her movie and book on Northeast 82nd and Ash Street, which Taylor said is a big deal.
"On the billboard I'm sitting there and it's my mom's picture that's over my shoulder, so it just made me think, 'she's watching over me," Taylor said. "I promised her I wouldn't stop."
Taylor said the movie, which she collaborated with a former rival gang member to create, is also set to premiere at the Los Angeles Film Festival later this year.
"I promise you I am so excited about this. Lord, I can't believe this," she said.
New sections of her book were also added to include modules on cyber-bullying, domestic violence, and mental health—using stories others have shared to make the curriculum well rounded.
Taylor is also one of the founders of Neighbors Against Violence, a community organization founded by other female former gang members.
She said she witnessed firsthand the beginning of Portland's history with gangs brought in from California in the 1980s. The film goes back even before that when many of her friends were affiliated with a gang called "15th Hood" in northeast Portland which became the "Woodlawn Bloods" when the larger gangs arrived, she said.
Taylor was a witness to the first confirmed Bloods gang slaying which happened right outside her house as she celebrated her "Sweet 16" party in October 1987.
"I wasn't in the gang at that time," Taylor said. "I was friends with the Crips and I was friends with the Bloods. But you can't control your whole environment that you're in."
Distressed by the killing and suffering from the shock of a seeing a church pastor drop dead from natural causes in the middle of a sermon the next day, Taylor, unfortunately, found comfort from the dozen or so Blood members on her neighborhood corner. They enveloped her into their bosom. That same day she threw on a red Pendleton and started down the path of gang banging for the next decade.
"I used to wake up be like 'damn, who am I going to shoot today?' You know, for real. That was our thing." Taylor said. "It's crazy 'cause now-a-days we got Crips killing Crips and Bloods killing Bloods."
She stopped her gang activity briefly in the 90s when she started popping pills to cope.
"I think that has something to do with like depression--seeing too many bodies, going to too many funerals, and being shot," Taylor said. "Your bones never, they never come back to normal. I be achin' in this cold," she lamented.