Unity Center Fills Need
Capacity to treat mental health grows
2/21/2018, 11:17 a.m.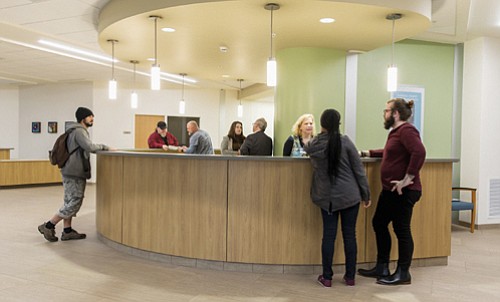 Adventist Health, Kaiser Permanente, Legacy Health and Oregon Health & Science University are marking the one year anniversary of the opening of Unity Center for Behavioral Health in northeast Portland by bracing for more demand for its services.
Starting in April, the jointly run medical center will add five new adult inpatient beds, giving it a total capacity of 85 adult inpatient beds and 22 inpatient beds for adolescents, ages 9 through 17. The need comes as the number of individuals seeking care in psychiatric emergency service increases.
The Unity Center is a 109,270-square foot, 24-hour behavioral health services center that features the first emergency room in Oregon and southwest Washington explicitly designed to deliver immediate psychiatric care and a path to recovery for people experiencing a mental health crisis.
The center was created with the goal of reducing the boarding time of behavioral health patients in hospital emergency departments and connecting patients with the right services upon discharge.
The wait time for a bed in a hospital for behavioral health patients in crisis used to average between 40-60 hours for some of the busiest hospitals. The average wait time for a bed at the Unity Center is now eight hours.

In addition, with the help of partners in law enforcement and emergency medical services, the Unity Center has made significant headway in reframing the conversation around how to compassionately treat and care for those experiencing a mental health emergency.
For example, Unity has encouraged a model of ambulance transport for individuals in a behavioral health crisis. Today, when police respond to a 911 call about a person in mental health crisis, there is a community-wide agreement in Portland that patients experiencing a behavioral health crisis will be transported to the hospital via ambulance, not in the back of a police car. In the last year, over 1,197 patients have arrived at Unity Center by ambulance.
"For many patients, seeking help at Unity Center is the first step in their journey toward improved mental health," said Dr. Chris Farentinos, Unity Center vice president. "Partnering with dozens of community-based organizations helps us connect our patients with social services and follow-up care so they continue to receive the support they need after leaving Unity Center."