'Get Out" Best Film of 2017
Game changing social thriller the best of the best
Jenny immediately feels responsible for not letting the woman in and wonders if she may have contributed to her death. Her attempts to talk to the intern fail; she finds that he is about to quit medical school, giving Jenny another reason to feel terrible. She eventually admits, to him and to herself, that she too wanted to open the door that night and that she had prevented him from doing so only to get the upper hand. This is the kind of self-assessment most of us avoid.
Jenny decides not to take the prestigious job and, for the rest of the film, goes to great and frequently dangerous lengths to find out what happened to the dead girl. She encounters a succession of people who did things they are ashamed of that may well have contributed to the girl's death, and most of them are experiencing some kind of health problem – back pain, stomach pain, infections. It's subtle but clear. Many are angry with Jenny for asking questions, and she puts herself in some real danger. But she is compelled to pursue the truth; she can't get the woman out of her head.
The film is exceedingly wise about how people work, and about systemic injustice. Most of us have little things we don't want to look at -- and any type of systemic injustice is full of little lies and small actions that shift the burdens of suffering and limited resources onto the marginalized. Once the shift is made, we don't want to look at it; indeed, we often function as though we are entitled not to look, that it doesn't involve us. From the moment that she recognizes and names why she stopped the intern from opening the door, and that opening the door might have prevented what befell the woman later, Jenny sets herself on the road less traveled. The others she encounters are covering their tracks and it is affecting their bodies. Jenny, a doctor, offers them physical and psychic healing, and they often fight her on both, as we humans do. They fail to recognize that she is offering exactly what they need. (In French; not rated; deserves Academy Awards nominations for Best Foreign Language Film, Best Director, Best Actress (Adèle Haenel), and Best Original Screenplay; not on any other critics' top 10 list.)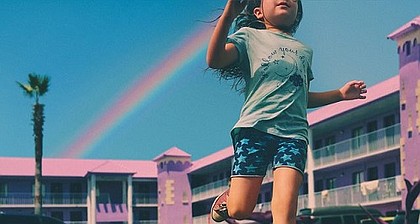 (3) "The Florida Project" is the work of writer-director Sean Baker, whose "Tangerine" was on my list of the best films of 2015. Here again, his compassionate focus is the underclass of people who live on the edge of destitution, next door to la la land -- in this case, Disney World. Six-year-old Moonee (played by the irrepressible Brooklynn Prince) lives with her mother Hailey (still a child herself) in a week-to-week budget motel painted in bright pastels and sporting discount fairytale trappings, originally built to house park visitors and now housing the virtually homeless. Hailey is a profoundly neglectful parent, plainly having experienced only neglect herself; she manages her untenable circumstances with guts and quick flashes of anger, and their life together is achingly precarious. Yet Moonee feels (and is) loved (or what passes for it in Hailey's conception), and slams through her world with the utmost ballsy confidence, armed with Hailey's lessons in hustling, grabbing what she wants and leaving carnage in her wake.