New Gym for Heart Patients
2/28/2018, 10:57 a.m.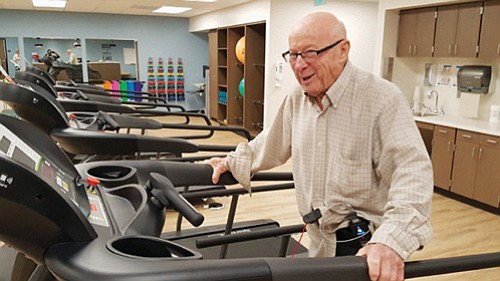 Legacy Emanuel has opened a new cardiac and pulmonary rehabilitation program, which includes a 4,200-square-foot gym, to help heart and pulmonary patients on their road to recovery. With this new addition, Legacy Health will now have cardiac and pulmonary rehabilitation programs at all six of its medical center campuses.
The program offers a state-of-the-art fitness gym with equipment such as treadmills, elliptical cycles, hand weights and other fitness tools. Patients get a completely individualized and closely monitored outpatient treatment plan that includes instruction on physical activity, nutrition, stress management and classes to help them change their lifestyle and kick habits, like smoking. They are overseen by a team of physicians, exercise physiologists, nutritionists, nurses, behavioral therapists and physical and occupational therapists who serve in the field of cardiac and pulmonary rehabilitation.