Encouraging the Walk
1/3/2018, 9:46 a.m.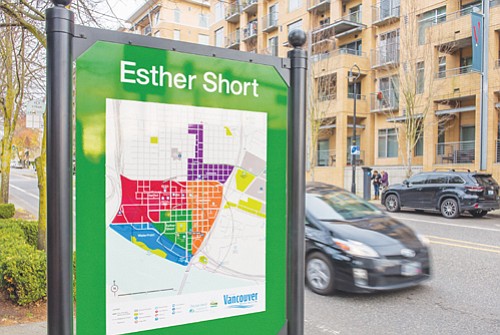 Visitors to downtown Vancouver are being greeted in the New Year with colorful new wayfinding signs to encourage walking and exploration of the city.
Thanks to the work of community stakeholders and a $75,000 Lodging Tax Program grant, Vancouver Public Works crews recently began installing 38 pedestrian wayfinding signs throughout downtown Vancouver, including 34 smaller post-mounted signs, two large kiosk signs at Esther Short Park and two corridor map signs along primary north and south walking routes.
The signs are part of the Downtown Vancouver Pedestrian Wayfinding Plan, which was developed with the help over 20 community stakeholders representing different organizations, neighborhood associations and businesses.
The plan was developed in an effort to improve navigation in the downtown area, encourage walking and exploration, support the vitality of downtown businesses and services, and for being reflect the character of the community.`