Healthcare on the Line
Measure would protect coverage for working poor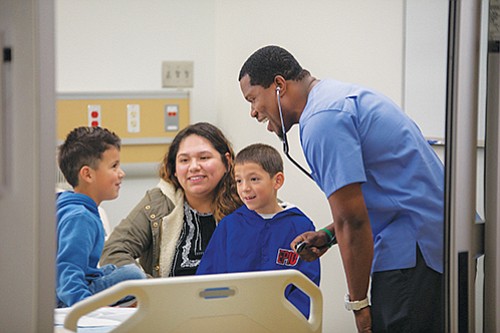 A wide coalition of health care advocates, including progressive and social justice organizations, are encouraging a yes vote in an upcoming special election to fund a major slice of the Oregon Health Plan, the state's health insurance program serving low income residents.
Voters in the Jan. 23 vote-by-mail election will decide if new fees on hospitals, clinics and insurance companies will cover the costs of expanding Medicaid coverage for the working poor, as passed by the Oregon Legislature in 2017 but referred to voters.
Known as Measure 101, the proposal also specifies that insurance companies are not allowed to increase customer premiums or their out-of-pocket costs by more than 1.5 percent as a way to prevent the added expenses to be passed on to patients.
The assessments would collect between $210-$320 million, officials said, which the federal government would match dollar-for-dollar. Without them, the Oregon economy would lose billions in federal funds and Oregon Health Plan enrollment would decline by more than one-third, making it difficult to maintain the infrastructure of the state's coordinated healthcare organizations, advocates say.
Proponents of the measure include a coalition of over 160 organizations called Yes for Healthcare, drawing support from a wide range of civil rights groups, including the Urban League of Portland, Basic Rights Oregon, Multnomah County Democrats, and Portland Resistance, the activist organization formed last year after the election of President Trump.
Voting "no" would jeopardize health insurance coverage for up to 350,000 Oregonians who would otherwise qualify under the Oregon Health Plan. But opponents say it would force lawmakers to figure out a way to fund the healthcare program from other revenue sources.
The special election came about after three Republican representatives, Julie Parrish of West Linn, Sal Esquivel of Medford, and Cedric Hayden of Roseburg pooled their resources to help gather nearly 85,000 signatures to refer the bill to a vote.
Patty Wentz, an advocate from Yes for Healthcare, which also includes the Oregon AARP, Oregon Nurses Association, Oregon Medical Association, and Oregon School Boards Association, told the Portland Observer that if Measure 101 is passed, premiums will decrease by about $300 a year for people who buy their own coverage -- that's folks who aren't covered by an employers' insurance plan. And it would fund Medicaid, which 1 in 4 Oregonians count on, including 400,000 kids.
"It's very important for everyone to vote," she said. "Healthcare is at stake."
Christy Similia, a registered nurse who endorses Measure 101, said passing the ballot would protect health care coverage for patients and stabilize the insurance market.
"When families don't have coverage, a single hospitalization can throw them into a financial spiral it can take years to get out of. Having a coalition of more than 160 organizations shows that Oregonians believe that everyone in our state deserves health care," she said.
Another voice in the wave of support comes from the chief executive officer and president of Central City Concern, Rachel Solotaroff, who is also a physician. The organization provides facilitates healthcare, affordable supportive housing, supportive employment, and peer support to help move people out of homelessness, overcome their addiction, and become thriving members of the community.