Dismayed by Failure to Fund Kids' Healthcare
Downtown rally calls for action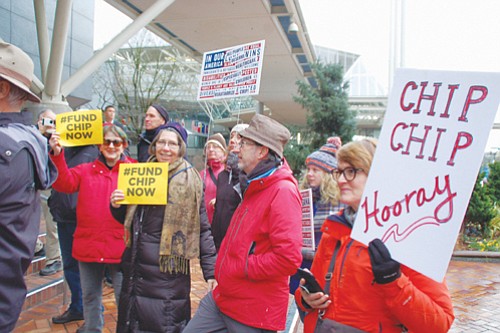 Congress needs to reauthorize a federal healthcare program for children called the Children's Health Insurance Program or CHIP to help low and middle income families. That was the rally cry last Friday as a group of Oregon elected officials joined the public for a demonstration on the steps of the World Trade Center in downtown Portland.
The lawmakers included Oregon Democrats, U.S. Sen. Jeff Merkley, Gov. Kate Brown, and U.S. Reps. Earl Blumenauer and Suzanne Bonamici.
About 9 million children across the country, including over 100,000 in Oregon and over 23,000 in Portland, benefit from CHIP coverage. Congress' reauthorization of the funding for the program is now over 100 days past due, legislation that has traditionally seen bi-partisan support.
"As a mom and a member of Congress, I am dismayed by the failure of Congressional leadership to reauthorize the Children's Health Insurance Program for the long-term," Congresswoman Bonamici said. "Republicans just added about $1.5 trillion to the debt with their tax bill and they are now insisting that we cut prevention and public health programs to pay for children's health insurance. That's wrong."
A bipartisan bill that would extend CHIP passed unanimously by the Senate Finance Committee, but the Senate majority has not allowed it to see the floor. Instead, Congress included a three-month extension of the program in an appropriations bill passed last month.
"Federal leaders should unite, put aside political gamesmanship and fund the CHIP program." Gov. Brown said. "Unfortunately, majority leadership in Congress is focused on looking out for the wealthy and well-connected. Here in Oregon we're focused on the people, not the powerful."
A pediatrician at the rally, Ben Hoffman, told the Portland Observer he's seen the impact the uncertainty of the funding has had on families.
"People are scared. People don't know what they're going to do if they lose their healthcare," Hoffman said. "For those of us who are in the trenches, we have to look these families in the eyes, these parents, and help them come to terms with what they might do if they lose access to health insurance. It's really a horrible thing…the message needs to get to DC that we can't hold these families hostage."
Sen. Merkley told the Portland Observer his thoughts were on the next steps needed to address the issue with other lawmakers.
"It needs to part of the comprehensive funding package. Right now, the government is running out of money on January 19th so we expect this package to be put together over the next few days…we need to have a lot of pressure applied," Merkley said. "It's absolutely outrageous that my Republican colleagues have been focusing on raiding the treasury for the rich while neglecting working Americans."

Prior to a three month temporary extension of the program, Gov. Brown had directed the Oregon Health Authority to extend coverage of CHIP in Oregon through April using leftover funds to cover it.

The CHIP program, called Oregon Healthy Kids in Oregon, covers kids and pregnant women from low to middle income families whose income is too high to receive Medicaid, but too low to purchase coverage themselves.