New Minority Leader On Equality and MLK
Jackie Winters earns respect from all sides
Beverly Corbell | 1/9/2018, 6:57 p.m.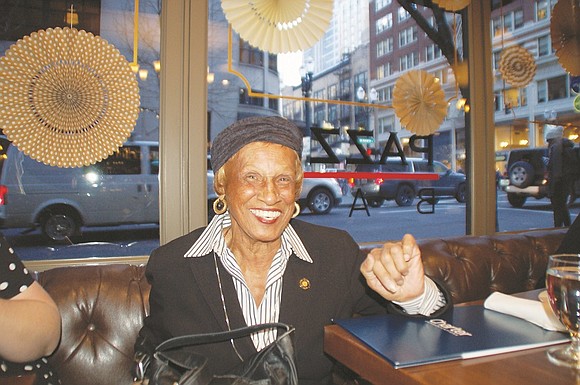 The ideals that Martin Luther King Jr. espoused and lived by are personal for Sen. Jackie Winters, but one episode in her own life brought it all into sharp focus.
Winters, 80, was recently named minority leader of the Oregon Senate, the first black woman to hold that position.
But long before she got into politics, Winters built a minor restaurant empire, opening several versions of Jackie's Ribs in Salem and the Portland area. It was when she decided to open a Jackie's Ribs on Southwest Broadway that it hit her. She was opening a business "right smack in downtown Portland," where blacks faced discrimination just a generation before.
"My son didn't understand. He said, 'Well, this is not the first Jackie's you've opened, so why are you getting so emotional about it?" she said.
"I said to him that he has to understand that when we were in Vanport and also the early in settling into Portland, there were places we could not eat," she said. "There were places we could not even sit to eat as a kid," she said. "These kids (today) don't understand what was going on."
Winters was born in Kansas, moved as a small child to Vanport where she survived the infamous Vanport Flood, and grew up the Albina neighborhood of Portland.
"We had a lot of small businesses and had over 100 social clubs in Portland," she said, describing African American participation in commerce and community gatherings at the time.
Before the flood, Vanport was a vibrant, self-sufficient town, "A total community and we had our own schools, had our own shopping centers," she said.
Winters was first elected to the state House in 1998, re-elected in 2000 and elected to the state Senate three times, in 2006, 2010 and 2014.
Her term is up in 2018, when she plans to run again.
"I think I've already filed," she said.
Before running for office, Winters worked for Gov. Tom McCall and later for Gov. Victor Atiyeh.
She joined the Republican Party of McCall and Atiyeh because back then, she said, they were the ones who got things done.
"It was the McCall years. That's who I was working for, working with, and that's who I learned from," she said. "And I saw those who were willing to open up their doors for jobs were Republicans. I saw those that were willing to give a helping hand up were Republicans, when I was with Tom."
That contrasts with the perceptions of many about the current national GOP agenda, but during a recent visit to Portland, Winters declined to discuss the national stage.
"I'm not there," she said firmly.
Winters entered the political arena from working at the state capitol, but she got her interest in politics long before from her father.
"I heard about politicians practically all my life from my dad," she said. "He never ran for office, but he would discuss politicians and could tell you about most of who was running, whether they good, bad or indifferent."